Elevation in circulating YKL-40 concentration in patients with cerebrovascular disease
Keywords:
YKL-40, cerebrovascular disease, stroke, infarction, diagnostic/prognostic biomarker
Abstract
YKL-40 is a novel inflammatory protein. Elevated serum levels of YKL-40 have been reported in patients with atherosclerosis and other cardiovascular diseases, but the circulating profile of YKL-40 in patients with cerebrovascular disease has  been less investigated. This prospective observational study aimed to determine serum levels of YKL-40 in patients with different subtypes and severities of cerebrovascular disease. Eighty patients with acute ischemic stroke, 30 patients with acute hemorrhagic stroke, 15 patients with transient ischemic attack (TIA) and 18 age- and gender-matched healthy control subjects were recruited. Blood was sampled. Serum levels of YKL-40 were measured by ELISA. In healthy control subjects, serum levels of YKL-40 were 45.09±31.41 ng/ml, significantly lower than those in patients with acute ischemic stroke (178.58±127.78 ng/ml), hemorrhagic stroke (105.32±87.35 ng/ml) and TIA (148.09±108 ng/ml) respectively (P<0.05). When the 80 acute ischemic stroke cases were stratified into four Oxfordshire Community Stroke subtypes, serum levels of YKL-40 were significantly higher in patients with total anterior (n=16), partial anterior (n=25) and posterior (n=12) circulation infarctions respectively than those with lacunar (n=27) infarction (P<0.05). Moreover, 63 of 80 patients with acute ischemic stroke survived. Circulating levels of YKL-40 in these stroke survivors were associated with the United States National Institutes of Health Stroke Scale (NIHSS) scores of neurological deficit. In summary, serum levels of YKL-40 were elevated in patients with cerebrovascular disease in lesion subtype- and severity-dependent manners. These observations suggest a potential for YKL-40 as a diagnostic/prognostic biomarker for cerebrovascular disease.
Downloads
Download data is not yet available.
References
. Johnston SC, Mendis S, Mathers CD. Global variation in stroke burden and mortality: estimates from monitoring, surveillance, and modelling. Lancet Neurol 2009; 8(4): 345-354.
Mathers CD, Boerma T, Ma Fat D. Global and regional causes of death. Br Med Bull 2009; 92: 7-32.
Liu L, Wang D, Wong KS, Wang Y. Stroke and stroke care in China: huge burden, significant workload, and a national priority. Stroke 2011; 42(12): 3651-3654.
Caplan LR, Searls DE, Hon FK. Cerebrovascular disease. Med Clin North Am 2009; 93(2): 353-369, viii.
Kernagis DN, Laskowitz DT. Evolving role of biomarkers in acute cerebrovascular disease. Ann Neurol 2012; 71(3): 289-303.
Hauschka PV, Mann KG, Price P, Termine JD. Report of the Ad Hoc Committee on Nomenclature and Standards for Bone Proteins and Growth Factors. J Bone Miner Res 1986; 1(5): 485-486.
Johansen JS, Williamson MK, Rice JS, Price PA . Identification of proteins secreted by human osteoblastic cells in culture. J Bone Miner Res 1992; 7(5): 501-512.
Bonneh-Barkay D, Bissel SJ, Kofler J, Starkey A, Wang G, Wiley CA. Astrocyte and macrophage regulation of YKL-40 expression and cellular response in neuroinflammation. Brain Pathol 2012; 22(4): 530-546.
Nishikawa KC, Millis AJ. gp38k (CHI3L1) is a novel adhesion and migration factor for vascular cells. Exp Cell Res 2003; 287(1): 79-87.
Bojesen SE, Johansen JS, Nordestgaard BG. Plasma YKL-40 levels in healthy subjects from the general population. Clin Chim Acta 2011; 412(9-10): 709-712.
Johansen JS, Hvolris J, Hansen M, Backer V, Lorenzen I, Price PA. Serum YKL-40 levels in healthy children and adults. Comparison with serum and synovial fluid levels of YKL-40 in patients with osteoarthritis or trauma of the knee joint. Br J Rheumatol 1996; 35(6): 553-559.
Johansen JS, Lottenburger T, Nielsen HJ, Jensen JE, Svendsen MN, Kollerup G, et al. Diurnal, weekly, and long-time variation in serum concentrations of YKL-40 in healthy subjects. Cancer Epidemiol Biomarkers Prev 2008; 17(10): 2603-2608.
Rathcke CN, Vestergaard H. YKL-40--an emerging biomarker in cardiovascular disease and diabetes. Cardiovasc Diabetol 2009; 8: 61.
Easton JD, Saver JL, Albers GW, Alberts MJ, Chaturvedi S, Feldmann E, et al. Definition and evaluation of transient ischemic attack: a scientific statement for healthcare professionals from the American Heart Association/American Stroke Association Stroke Council; Council on Cardiovascular Surgery and Anesthesia; Council on Cardiovascular Radiology and Intervention; Council on Cardiovascular Nursing; and the Interdisciplinary Council on Peripheral Vascular Disease. The American Academy of Neurology affirms the value of this statement as an educational tool for neurologists. Stroke 2009; 40(6): 2276-2293.
Bamford J, Sandercock P, Dennis M, Burn J, Warlow C . Classification and natural history of clinically identifiable subtypes of cerebral infarction. Lancet 1991; 337(8756): 1521-1526.
Roslind A, Johansen JS. YKL-40: a novel marker shared by chronic inflammation and oncogenic transformation. Methods Mol Biol 2009; 511: 159-184.
Johansen JS, Jensen BV, Roslind A, Nielsen D, Price PA. Serum YKL-40, a new prognostic biomarker in cancer patients? Cancer Epidemiol Biomarkers Prev 2006; 15(2): 194-202.
Zheng JL, Lu L, Hu J, Zhang RY, Zhang Q, Chen QJ, et al. Increased serum YKL-40 and C-reactive protein levels are associated with angiographic lesion progression in patients with coronary artery disease. Atherosclerosis 2010; 210(2): 590-595.
Ma WH, Wang XL, Du YM, Wang YB, Zhang Y, Wei DE, et al. Association between human cartilage glycoprotein 39 (YKL-40) and arterial stiffness in essential hypertension. BMC Cardiovasc Disord 2012; 12: 35.
Kucur M, Isman FK, Karadag B, Vural VA, Tavsanoglu S. Serum YKL-40 levels in patients with coronary artery disease. Coron Artery Dis 2007; 18(5): 391-396.
Hedegaard A, Ripa RS, Johansen JS, Jorgensen E, Kastrup J. Plasma YKL-40 and recovery of left ventricular function after acute myocardial infarction. Scand J Clin Lab Invest 2010; 70(2): 80-86.
Park HY, Jun CD, Jeon SJ, Choi SS, Kim HR, Choi DB, et al. Serum YKL-40 levels correlate with infarct volume, stroke severity, and functional outcome in acute ischemic stroke patients. PLoS One 2012; 7(12): e51722.
Pittock SJ, Meldrum D, Hardiman O, Thornton J, Brennan P, Moroney JT. The Oxfordshire Community Stroke Project classification: correlation with imaging, associated complications, and prediction of outcome in acute ischemic stroke. J Stroke Cerebrovasc Dis 2003; 12(1): 1-7.
Bonneh-Barkay D, Wang G, Starkey A, Hamilton RL, Wiley CA. In vivo CHI3L1 (YKL-40) expression in astrocytes in acute and chronic neurological diseases. J Neuroinflammation. 2010; 117: 34
Kleinig TJ, Vink R. Suppression of inflammation in ischemic and hemorrhagic stroke: therapeutic options. Curr Opin Neurol 2009; 22(3): 294-301.
Wang J, Dore S. Inflammation after intracerebral hemorrhage. J Cereb Blood Flow Metab 2007; 27(5): 894-908.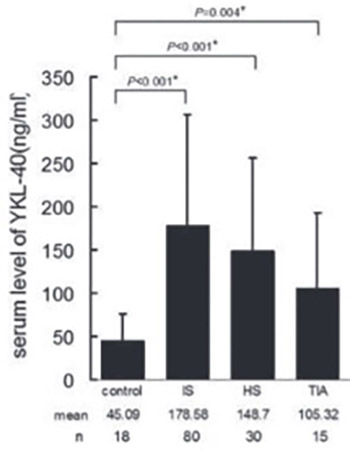 Downloads
Additional Files
How to Cite
1.
Xu X, Ma H, Xu J, Huang H, Wu X, Xiong Y, Zhan H, Huang F. Elevation in circulating YKL-40 concentration in patients with cerebrovascular disease. Biomol Biomed [Internet]. 2014Aug.14 [cited 2023Sep.25];14(3):120-4. Available from: https://www.bjbms.org/ojs/index.php/bjbms/article/view/120