Verruca vulgaris of the tongue: a case report with a literature review
Keywords:
Verruca vulgaris, tongue, human papillomavirus
Abstract
Verruca vulgaris (common warts) is a benign lesion of skin and mucous membranes caused by human papillomovirus (HPV). The lesions are typically self-limited but may vary in size and number. The occurrence on the tongue is extremely rare. To the best of our knowledge, only one verruca vulgaris existing in the tongue had been reported in the literature. Case presentation: A rare case of verruca vulgaris of the tongue occurring in a 36-year-old Caucasian male is presented with a discussion on ethiopathogenesis and the treatment methods. Verruca vulgaris must be remembered in the differential diagnosis of tongue lesions and surgical treatment may provide satisfactory outcomes.
Downloads
Download data is not yet available.
References
Forman D, de Martel C, Lacey CJ, Soerjomataram I, Lortet-Tieulent J, Bruni L, et al. Global burden of human papillomavirus and related diseases. Vaccine 2012; 30 Suppl 5: F12-23.
Bzhalava D, Guan P, Franceschi S, Dillner J, Clifford G. A systematic review of the prevalence of mucosal and cutaneous human papillomavirus types. Virology 2013; 445 (1-2): 224-231.
Clifton MM, Johnson SM, Roberson PK, Kincannon J, Horn TD. Immunotherapy for recalcitrant warts in children using intralesional mumps or Candida antigens. Pediatr Dermatol 2003; 20 (3): 268-271.
Sterling JC, Handfield-Jones S, Hudson PM. British Association of Dermatologists. Guidelines for the management of cutaneous warts. Br J Dermatol 2001; 144 (1): 4-11.
Stulberg DL, Hutchinson AG. Molluscum contagiosum and warts. Am Fam Physician 2003; 67 (6):1233-1240.
Nucci V, Torchia D, Cappugi P. Condyloma acuminatum of the tongue treated with photodynamic therapy. Clin Infect Dis 2009; 48 (9): 1330-1332.
Harper DM, Franco EL, Wheeler CM, Moscicki AB, Romanowski B, Roteli-Martins CM, et al. Sustained efficacy up to 4.5 years of a bivalent L1 virus-like particle vaccine against human papillomavirus types 16 and 18: Follow-up from a randomised control trial. Lancet 2006; 367 (9518): 1247-1255.
Bosch FX, Lorincz A, Munoz N, Meijer CJ, Shah KV. The causal relation between human papillomavirus and cervical cancer. J Clin Pathol 2002; 55 (4): 244-265.
Lipke MM. An armamentarium of wart treatments. Clin Med Res 2006; 4 (4): 273-293.
Badaracco G, Venuti A, Di Lonardo A, Scambia G, Mozzetti S, Benedetti Panici P, et al. Concurrent HPV infection in oral and genital mucosa. J Oral Pathol Med 1998;27 (3):130-134.
Eversole LR, Laipis PJ, Merrell P, Choi E. Demonstration of human papillomavirus DNA in oral condyloma acuminatum. J Oral Pathol 1987; 16 (5): 266-272.
Nagaraj M. Verruca vulgaris of the tongue. J Maxillofac Oral Surg.2013; 12 (3): 329-332.
Castro TP, Bussoloti Filho I. Prevalence of human papillomavirus (HPV) in oral cavity and oropharynx. Braz J Otorhinolaryngol 2006; 72 (2): 272–282.
Bharti AH, Chotaliya K, Marfatia YS. An update on oral human papillomavirus infection. Indian J Sex Transm Dis 2013; 34 (2): 77-82.
Sand L, Jalouli J, Larsson PA, Hirsch JM. Human papilloma viruses in oral lesions. Anticancer Res 2000; 20 (2B): 1183–1188.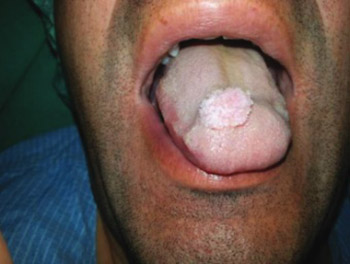 Downloads
Additional Files
How to Cite
1.
Ural A, Arslan S, Ersoz S, Deger Kulaksiz B. Verruca vulgaris of the tongue: a case report with a literature review. Biomol Biomed [Internet]. 2014Aug.16 [cited 2023Sep.23];14(3):136-8. Available from: https://www.bjbms.org/ojs/index.php/bjbms/article/view/136