Meticillin-resistant Staphylococcus aureus isolated from Iranian hospitals: virulence factors and antibiotic resistance properties
Keywords:
Staphylococcus aureus, SCCmec types, Panton-Valentine Leukocidin, antibiotic resistance properties, Iranian hospitals
Abstract
Staphylococcus aureus is an important opportunistic pathogen responsible for a variety of diseases. Indiscriminate prescription of antibiotics caused severe antibiotic resistance especially against commonly used drugs. The present investigation was carried out to study the distribution of Panton-Valentine Leukocidin gene, SCCmec types and antibiotic resistance properties of meticillin-resistant Staphylococcus aureus isolated from Iranian hospitals. A total of 132 clinical specimens were collected from two major Iranian hospitals. Samples were cultured and their positive results were subjected to several PCR methods. The patterns of antibiotic resistance were studied using the disk diffusion method. We found that 66 out of 132 samples (50%) were positive for Staphylococcus aureus. The most commonly infected samples were superficial and surgical wounds (66.12%). The incidence of mecA, tetK, ermA, ermC, tetM, aacA-D, linA, msrA, vatA, vatC and vatB antibiotic resistance genes were 80.30%, 34.84%, 30.30%, 25.75%, 24.24%, 19.69%, 7.57%, 7.57%, 6.06%, 3.03% and 1.51%, respectively. Totally, 40.90% of isolates harbored the Panton-Valentine Leukocidin gene. Of 53 mec positive strains, the distribution of SCCmec V, SCCmec III, SCCmec IVa, SCCmec IVc and SCCmec IVb were 28 (52.83%), 13 (24.52%), 6 (11.32%), 4 (7.54%) and 2 (3.77%), respectively. All isolates were resistant to penicillin, cephalothin, cefazoline and ceftriaxone. The high levels of Staphylococcus aureus resistance against commonly used antibiotics as well as high presence of SCCmec types of meticillin-resistant virulent strains of Staphylococcus aureus suggest that infections with these strains require more advanced hospital care with emerging demand for novel antibiotics.
Downloads
Download data is not yet available.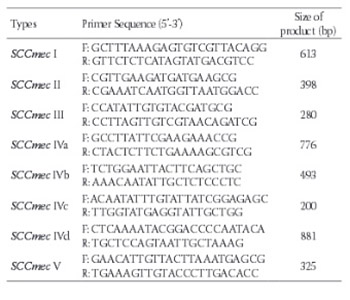 Downloads
Additional Files
How to Cite
1.
Momtaz H, Hafezi L. Meticillin-resistant Staphylococcus aureus isolated from Iranian hospitals: virulence factors and antibiotic resistance properties. Biomol Biomed [Internet]. 2014Oct.5 [cited 2023Sep.27];14(4):219-26. Available from: https://www.bjbms.org/ojs/index.php/bjbms/article/view/219