In vitro activity of heather [Calluna vulgaris (L.) Hull] extracts on selected urinary tract pathogens
Keywords:
heather, phenols, flavonoids, antibacterial activity, drug activity
Abstract
Calluna vulgaris L. Hull (Ericaceae) has been used for treatment of urinary tract infections in traditional medicine. In this study we analyzed in vitro antibacterial activity of the plant extracts on different strains of Escherichia coli, Enterococcus faecalis and Proteus vulgaris, as well as the concentrations of total phenols and flavonoids in the extracts. Minimum inhibitory concentration (MIC) and minimum bactericidal concentration (MBC) were determined. The concentrations of total phenols were examined by using Folin-Ciocalteu reagent and ranged between 67.55 to 142.46 mg GAE/g. The concentrations of flavonoids in extracts were determined using spectrophotometric method with aluminum chloride and the values ranged from 42.11 to 63.68 mg RUE/g. The aqueous extract of C. vulgaris showed a significant antibacterial activity. The values of MIC were in the range from 2.5 mg/ml to 20 mg/ml for this extract. Proteus vulgaris strains were found to be the most sensitive. The results obtained suggest that all tested extracts of C. vulgaris inhibit the growth of human pathogens, especially the aqueous extract.
Downloads
Download data is not yet available.
References
Monschein M, Iglesias N, Kunert O, Bucar F. Phytochemistry of heather (Calluna vulgaris (L.) Hull) and its altitudinal alteration. Phytochem Rev 2010; 9(2):205-215.
http://dx.doi.org/10.1007/s11101-009-9153-5
Filip GA, Postescu D, Tatomir C, Muresan A, Clichici S. Calluna vulgaris extract modulates NF-κB/ERK signaling pathway and matrix metalloproteinase expression in SKH-1 hairless mice skin exposed to ultraviolet B irradiation. J Physiol Pharmacol 2012; 63(4):423-432.
Pavlović RD, Lakušić B, Došlov-Kokoruš Z, Kovačević N. Arbutin Content and Antioxidant Activity of Some Ericaceae Species. Pharmazie 2009; 64:656-659.
Deliorman-Orhan D, Şenol S, Kartal M, Orhan I. Assessment of antiradical potential of Calluna vulgaris (L.) Hull and its major flavonoid. J Sci Food Agr 2009; 89(5):809-814.
http://dx.doi.org/10.1002/jsfa.3517
Rieger G, Müller M, Guttenberger H, Bucar F. Influence of altitudinal variation on the content of phenolic compounds in wild populations of Calluna vulgaris, Sambucus nigra, and Vaccinium myrtillus. J Agric Food Chem 2008; 56(19):9080-9086.
http://dx.doi.org/10.1021/jf801104e
Filip A, Clichici S, Daicoviciu D, Catoi C, Bolfa P, Postescu D et al. Chemopreventive effects of Calluna vulgaris and Vitis vinifera extracts on UVB-induced skin damage in SKH-1 hairless mice. J Physiol Pharmacol 2011; 62(3):385-392.
Szakiel A, Niżyński B, Pączkowski C. Triterpenoid profile of flower and leaf cuticular waxes of heather Calluna vulgaris. Nat Prod Res 2013; 27(15):1404-1407.
http://dx.doi.org/10.1080/14786419.2012.742083
Petronelli A, Pannitteri G, Testa U. Triterpenoids as new promising anticancer drugs. Anticancer Drugs Colloq Inse 2009; 20(10):880-892.
http://dx.doi.org/10.1097/CAD.0b013e328330fd90
Najid A, Simon A, Cook J, Chable-Rabinovitch H, Delage C, Chulia J, et al. Characterization of ursolic acid as a lipoxygenase and cyclooxygenase inhibitor using macrophages, platelets and differentiated HL60 leukemic cells. FEBS Lett 1992; 299(3):213-217.
http://dx.doi.org/10.1016/0014-5793(92)80117-Y
Tunón H, Olavsdotter C, Bohlin L. Evaluation of anti-inflammatory activity of some Swedish medicinal plants. Inhibition of prostaglandin biosynthesis and PAF-induced exocytosis. J Ethnopharmacol 1995; 48(2):61-76.
http://dx.doi.org/10.1016/0378-8741(95)01285-L
Jäger K, Gauguin B, Andersen J, Adsersen A, Gudiksen L. Screening of plants used in Danish folk medicine to treat depression and anxiety for affinity to the serotonin transporter and inhibition of MAO-A. J Ethnopharmacol 2013; 145(3):822-825.
http://dx.doi.org/10.1016/j.jep.2012.12.021
Saaby L, Rasmussen B, Jäger K. MAO-A inhibitory activity of quercetin from Calluna vulgaris (L.) Hull. J Ethnopharmacol 2009; 121(1):178-181.
http://dx.doi.org/10.1016/j.jep.2008.10.012
Wootton-Beard C, Moran A, Ryan L. Stability of the Total Antioxidant Capacity and Total Polyphenol Content of 23 Commercially Available Vegetable Juices before and after in vitro Digestion Measured by FRAP, DPPH, ABTS and Folin-Ciocalteu Methods. Food Res Int 2011; 44(1):217-224.
http://dx.doi.org/10.1016/j.foodres.2010.10.033
Quettier-Deleu C, Gressier B, Vasseur J, Dine T, Brunet C, Luyckx M, et al. Phenolic Compounds and Antioxidant Activities of Buckwheat (Fagopyrum esculentum Moench) Hulls and Flour. J Ethnopharmacol 2000; 72:35-42.
http://dx.doi.org/10.1016/S0378-8741(00)00196-3
Farrell DJ, Morrissey I, Rubeis DD, Robbins M, Felmingham D. A UK multicentre study of the antimicrobial susceptibility of bacterial pathogens causing urinary tract infection. J Infection 2003; 46(2):94-100.
http://dx.doi.org/10.1053/jinf.2002.1091
NCCLS (National Committee for Clinical Laboratory Standards). Methods for Dilution Antimicrobial Susceptibility Tests for Bacteria That Grow Aerobically. Approved Standard M7-A4: Wayne PA 1997.
Xia D, Wu X, Shi J, Yang Q, Zhang Y. Phenolic compounds from the edible seeds extract of Chinese Mei (Prunus mume Sieb. et Zucc) and their antimicrobial activity. Lwt-Food Sci Technol 2011; 44(1):347–349.
http://dx.doi.org/10.1016/j.lwt.2010.05.017
Qader SW, Abdulla MA , Chua LS , Najim N , Zain M, Hamdan S. Antioxidant, Total Phenolic Content and Cytotoxicity Evaluation of Selected Malaysian Plants. Molecules 2011; 16(4):3433-3443.
http://dx.doi.org/10.3390/molecules16043433
Dashputre NL, Naikwade NS. Evaluation of Anti-Ulcer Activity of Methanolic Extract of Abutilon indicum Linn leaves in experimental rats. Int J Pharm Sci Drug Res 2011; 3(2): 97-100.
Muthuraman A, Sood S, Singla SK. The antiinflammatory potential of phenolic compounds from Emblica officinalis L. in rat. Inflammopharmacology 2011; 19(6):327-334.
http://dx.doi.org/10.1007/s10787-010-0041-9
Özçelik B, Kartal M, Orhan I. Cytotoxicity, antiviral and antimicrobial activities of alkaloids, flavonoids, and phenolic acids. Pharm Biol 2011; 49(4):396-402.
http://dx.doi.org/10.3109/13880209.2010.519390
Gordien Y, Gray AI, Ingleby K, Franzblau G, Seidel V. Activity of Scottish plant, lichen and fungal endophyte extracts against Mycobacterium aurum and Mycobacterium tuberculosis. Phytother Res 2010; 24(5):692-698.
Huttunen S, Riihinen K, Kauhanen J, Tikkanen-Kaukanen C. Antimicrobial activity of different Finnish monofloral honeys against human pathogenic bacteria. APMIS 2013; 121(9):827-834.
http://dx.doi.org/10.1111/apm.12039
Allen KL, Molan PC, Reid GM. A survey of the antibacterial activity of some New Zealand honeys. J Pharm Pharmacol 1991; 43(12):817-822.
http://dx.doi.org/10.1111/j.2042-7158.1991.tb03186.x
Vučić DM, Petković MR, Rodić-Grabovac BB, Stefanović OD, Vasić SM, Čomić LjR. Phenolic content, antibacterial and antioxidant activities of Erica herbacea L. Acta Pol Pharm 2013; 7(45):5130-5136.
Vučić DM, Petković MR, Rodić-Grabovac BB, Stefanović OD, Vasić SM, Čomić LjR. Antibacterial and antioxidant activities of bilberry (Vaccinium myrtillus L.) in vitro. Afr J Microbiol Res 2013; 7(45):5130-5136.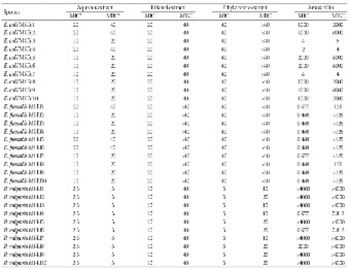 Downloads
Additional Files
How to Cite
1.
Vučić DM, Petković MR, Rodić-Grabovac BB, Stefanović OD, Vasić SM, Čomić LR. In vitro activity of heather [Calluna vulgaris (L.) Hull] extracts on selected urinary tract pathogens. Bosn J of Basic Med Sci [Internet]. 2014Nov.15 [cited 2022Nov.29];14(4):234-8. Available from: https://www.bjbms.org/ojs/index.php/bjbms/article/view/234