High Ki-67 expression is associated with prolactin secreting pituitary adenomas
Keywords:
Pituitary adenomas, Ki-67 labeling index, prognostic factor, prolactin, PRL, PRL-secreting adenoma
Abstract
Pituitary adenomas represent the third most common primary intracranial tumor in neurosurgical practice. To understand the biological behaviour of the pituitary adenomas previous studies have determined the tumor proliferation rate using monoclonal antibodies targeted against the Ki-67 antigen. The aim of this study was to correlate the Ki-67 index with hormonal profiles of pituitary adenomas. The study included 50 pituitary adenomas. For histopathologic evaluation, the sections were stained with routine hematoxylin and eosin method. Additional paraffin sections from each tumor were immunostained using primary antibodies against the following pituitary hormones: somatotropin (STH), prolactin (PRL), adrenocorticotrophic hormone (ACTH), thyroid-stimulating hormone (TSH), follicle-stimulating hormone (FSH), and luteinizing hormone (LH). To detect the expression of Ki-67 we used a mouse anti-human monoclonal antibody (clone K2). The percentage of Ki-67 positive nuclei (Ki-67 labeling index) was assessed by counting approximately 1000 nuclei of the tumor cells at ×400 magnification. Out of the 50 tumor samples, 31 (62%) pituitary adenomas showed proliferative activity, and the proliferation rate was variable in this group. The overall mean Ki-67 labeling index was 1.59 ± 1.47, ranging from 0.3% to 6.6%. In 5 cases, the Ki-67 index was >3%, all of them being prolactinomas. The Ki-67 index was higher in PRL-secreting adenomas (mean ± SD was 3.37 ± 1.80, range 0.9 - 6.6%). Our study provides the evidence that a higher Ki-67 value is associated with pituitary adenomas that secrete PRL (prolactinomas and mixed STH/PRL-secreting adenomas).
Downloads
Download data is not yet available.
References
Buurman H, Saeger W. Subclinical adenomas in postmortem pituitaries: Classification and correlations to clinical data. Eur J Endocrinol 2006;154(5):753-8. https://doi.org/10.1530/eje.1.02107.
Kontogeorgos G. Predictive markers of pituitary adenoma behavior. Neuroendocrinology 2006;83(3-4):179-88. https://doi.org/10.1159/000095526.
Lloyd RV, Kovacs K, Young Jr WF, Farell WE, Asa SL, Trouillas J, et al. Tumors of the pituitary. In: DeLellis RA, Lloyd RV, Heitz PU, Eng C, editors. Pathology and genetics of tumours of endocrine organs. France, Lyon: IARC Press; 2004.p. 159-61.
Al-Shraim M, Asa SL. The 2004 World Health Organization classification of pituitary tumors: What is new? Acta Neuropathol 2006;111(1):1-7.
https://doi.org/10.1007/s00401-005-1093-6.
Ragel BT, Couldwell WT. Pituitary carcinoma: A review of the literature. Neurosurg Focus 2004;16(4):E7. https://doi.org/10.3171/foc.2004.16.4.8.
Scholzen T, Gerdes J. The Ki-67 protein: From the known and the unknown. J Cell Physiol 2000;182(3):311-22. https://doi.org/10.1002/(SICI)1097-4652(200003)182:3<311::AID-JCP1>3.0.CO;2-9.
Burger PC, Shibata T, Kleihues P. The use of the monoclonal antibody Ki-67 in the identification of proliferating cells: Application to surgical neuropathology. Am J Surg Pathol 1986;10(9):611-7. https://doi.org/10.1097/00000478-198609000-00003.
Mastronardi L, Guiducci A, Spera C, Puzzilli F, Liberati F, Maira G. Ki-67 labelling index and invasiveness among anterior pituitary adenomas: Analysis of 103 cases using the MIB-1 monoclonal antibody. J Clin Pathol 1999;52(2):107-11. https://doi.org/10.1136/jcp.52.2.107.
Pizarro CB, Oliveira MC, Coutinho LB, Ferreira NP. Measurement of Ki-67 antigen in 159 pituitary adenomas using the MIB-1 monoclonal antibody. Braz J Med Biol Res 2004;37(2):235-43. https://doi.org/10.1590/S0100-879X2004000200011.
Losa M, Franzin A, Mangili F, Terreni MR, Barzaghi R, Veglia F, et al. Proliferation index of nonfunctioning pituitary adenomas: Correlations with clinical characteristics and long-term follow-up results. Neurosurgery 2000;47(6):1313-9.
https://doi.org/10.1097/00006123-200012000-00009.
Hentschel SJ, McCutcheon IE, Moore W, Durity FA. P53 and MIB-1 immunohistochemistry as predictors of the clinical behavior of nonfunctioning pituitary adenomas. Can J Neurol Sci 2003;30(3):215-9. https://doi.org/10.1017/S0317167100002614.
Yonezawa K, Tamaki N, Kokunai T. Clinical features and growth fractions of pituitary adenomas. Surg Neurol 1997;48(5):494-500.
https://doi.org/10.1016/S0090-3019(97)00102-X.
Miermeister CP, Petersenn S, Buchfelder M, Fahlbusch R, Lüdecke DK, Hölsken A, et al. Histological criteria for atypical pituitary adenomas – data from the German pituitary adenoma registry suggests modifications. Acta Neuropathol Commun 2015;3:50.
https://doi.org/10.1186/s40478-015-0229-8.
Thapar K, Kovacs K, Scheithauer BW, Stefaneanu L, Horvath E, Pernicone PJ, et al. Proliferative activity and invasiveness among pituitary adenomas and carcinomas: An analysis using the MIB-1 antibody. Neurosurgery 1996;38(1):99-107. https://doi.org/10.1097/00006123-199601000-00024.
Delgrange E, Trouillas J, Maiter D, Donckier J, Tourniaire J. Sex-related difference in the growth of prolactinomas: A clinical and proliferation marker study. J Clin Endocrinol Metab 1997;82(7):2102-7. https://doi.org/10.1210/jc.82.7.2102.
Ma W, Ikeda H, Yoshimoto T. Clinicopathologic study of 123 cases of prolactin-secreting pituitary adenomas with special reference to multihormone production and clonality of the adenomas. Cancer 2002;95(2):258-66. https://doi.org/10.1002/cncr.10676.
Paek K-II, Kim SH, Song SH, Choi SW, Koh HS, Youm JY, et al. Clinical significance of Ki-67 labeling index in pituitary macroadenoma. J Korean Med Sci 2005;20(3):489-94. https://doi.org/10.3346/jkms.2005.20.3.489.
Pawlikowski M, Kunert-Radek J, Radek M. Plurihormonality of pituitary adenomas in light of immunohistochemical studies. Endokrynol Pol 2010;61(1):63-6.
Ezzat S, Asa SL, Couldwell WT, Barr CE, Dodge WE, Vance ML, et al. The prevalence of pituitary adenomas: A systematic review. Cancer 2004;101(3):613-9. https://doi.org/10.1002/cncr.20412.
Prevedello DM, Jagannathan J, Jane JA Jr, Lopes MB, Laws ER Jr. Relevance of high Ki-67 in pituitary adenomas. Case report and review of the literature. Neurosurg Focus 2005;19(5):E11. https://doi.org/10.3171/foc.2005.19.5.12.
Pernicone PJ, Scheithauer BW, Sebo TJ, Kovacs KT, Horvath E, Young WF Jr, et al. Pituitary carcinoma: A clinicopathologic study of 15 cases. Cancer 1997;79(4):804-12. https://doi.org/10.1002/(SICI)1097-0142(19970215)79:4<804::AID-CNCR18>3.0.CO;2-3.
Ben-Jonathan N, Mershon JL, Allen DL, Steinmetz RW. Extrapituitary prolactin: Distribution, regulation, functions, and clinical aspects. Endocr Rev 1996;17(6):639-69. https://doi.org/10.1210/edrv-17-6-639.
Clevenger CV, Furth PA, Hankinson SE, Schuler LA. The role of prolactin in mammary carcinoma. Endocr Rev 2003;24(1):1-27. https://doi.org/10.1210/er.2001-0036.
Vonderhaar BK. Prolactin in human breast cancer development. In: Ethier SP, editor. Endocrine oncology. Totowa, NJ: Humana Press; 2000. p. 101-20. https://doi.org/10.1007/978-1-59259-223-4_7.
Ignacak A, Kasztelnik M, Sliwa T, Korbut RA, Rajda K, Guzik TJ. Prolactin-not only lactotrophin. A "new" view of the "old" hormone. J Physiol Pharmacol 2012;63(5):435-43.
Sackmann-Sala L, Chiche A, Mosquera-Garrote N, Boutillon F, Cordier C, Pourmir I, et al. Prolactin-induced prostate tumorigenesis links sustained Stat5 signaling with the amplification of basal/stem cells and emergence of putative luminal progenitors. Am J Pathol 2014;184(11):3105-19. https://doi.org/10.1016/j.ajpath.2014.07.020.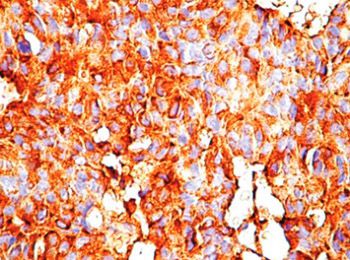 Downloads
Additional Files
How to Cite
1.
Bălinişteanu B, Cîmpean AM, Ceauşu AR, Corlan AS, Melnic E, Raica M. High Ki-67 expression is associated with prolactin secreting pituitary adenomas. Biomol Biomed [Internet]. 2017May20 [cited 2023Sep.28];17(2):104-8. Available from: https://www.bjbms.org/ojs/index.php/bjbms/article/view/1750