Evaluation of phenolic profile, enzyme inhibitory and antimicrobial activities of Nigella sativa L. seed extracts
Keywords:
Nigella sativa, UHPLC/MS-MS, phenolic compounds, butyrylcholinesterase inhibition, catalase inhibition, antimicrobial potential, black cumin
Abstract
Black cumin (Nigella sativa L. [N.sativa]) seed extracts demonstrated numerous beneficial biological effects including, among others, antidiabetic, anticancer, immunomodulatory, antimicrobial, anti-inflammatory, antihypertensive, and antioxidant activity. To better understand the phytochemical composition of N. sativa seeds, methanol seed extracts were analyzed for phenolic acid and flavonoid content. Furthermore, we tested N. sativa methanol, n-hexane, and aqueous seed extracts for their inhibitory activity against butyrylcholinesterase (BChE) and catalase (CAT) as well as for antimicrobial activity against several bacterial and a yeast strains. The phenolic content of N. sativa was analyzed using ultra-high performance liquid chromatography tandem mass spectrometry (UHPLC-MS/MS). The inhibition of BChE was assessed by modified Ellman's method, and the inhibition of CAT was determined by monitoring hydrogen peroxide consumption. The extracts were tested against Bacillus subtilis, Staphylococcus aureus, Salmonella enterica, and Escherichia coli using the agar diffusion method. The UHPLC-MS/MS method allowed the identification and quantification of 23 phenolic compounds within 15 minutes. The major components found in N. sativa seed extract were sinapinic acid (7.22 ± 0.73 µg/mg) as a phenolic acid and kaempferol (11.74 ± 0.92 µg/mg) as a flavonoid. All extracts showed inhibitory activity against BChE, with methanol seed extract demonstrating the highest inhibitory activity (inhibitory concentration 50% [IC50] 79.11 ± 6.06 µg/ml). The methanol seed extract also showed strong inhibitory activity against CAT with an IC50 value of 6.61 ± 0.27 µg/ml. Finally, the methanol extract exhibited considerable inhibitory activity against the tested microbial strains. Overall, this is the first study to investigate the ability of black cumin seed extracts to inhibit CAT. Our results indicate that N. sativa seed can be considered as an effective inhibitor of CAT activity.
Downloads
Download data is not yet available.
References
Dubick MA. Historical perspectives on the use of herbal preparations to promote health. J Nutr 1986;116(7):1348-54.
Khanna D, Sethi G, Ahn KS, Pandey MK, Kunnumakkara AB, Sung B, et al. Natural products as a gold mine for arthritis treatment. Curr Opin Pharmacol 2007;7(3):344-51. https://doi.org/10.1016/j.coph.2007.03.002.
Fusco D, Colloca G, Lo Monaco MR, Cesari M. Effects of antioxidant supplementation on the aging process. Clin Interv Aging 2007;2(3):377-87.
Gilani AH, Jabeen Q, Khan MA. A review of medicinal uses and pharmacological activities of Nigella sativa. Pak J Biol Sci 2004;7(4):441-5. https://doi.org/10.3923/pjbs.2004.441.451.
Ahmad A, Husain A, Mujeeb M, Khan SA, Najmi AK, Siddique NA, et al. A review on therapeutic potential of Nigella sativa: A miracle herb. Asian Pac J Trop Biomed 2013;3(5):337-52. https://doi.org/10.1016/S2221-1691(13)60075-1.
El-Far AH, Korshom MA, Mandour AA, El-Bessoumy AA, El-Sayed YS. Hepatoprotective efficacy of Nigella sativa seeds dietary supplementation against lead acetate-induced oxidative damage in rabbit - Purification and characterization of glutathione peroxidase. Biomed Pharmacother 2017;89:711-8. https://doi.org/10.1016/j.biopha.2017.02.044.
Nergiz C, Ötleş S. Chemical composition of Nigella sativa L. seeds. Food Chem 1993;48(3):259-61. https://doi.org/10.1016/0308-8146(93)90137-5.
Al-Jassir MS. Chemical composition and microflora of black cumin (Nigella sativa L.) seeds growing in Saudi Arabia. Food Chem 1992;45(4):239-42.
https://doi.org/10.1016/0308-8146(92)90153-S.
Ramadan MF, Morsel JT. Neutral lipid classes of black cumin (Nigella sativa L.) seed oils. Eur Food Res Technol 2002;214(3):202-6. https://doi.org/10.1007/s00217-001-0423-8.
Cheikh-Rouhou S, Besbes S, Hentati B, Blecker C, Deroanne C, Attia H. Nigella sativa L: Chemical composition and physicochemical characteristics of lipid fraction. Food Chem 2007;101(2):673-81. https://doi.org/10.1016/j.foodchem.2006.02.022.
Nickavar B, Mojab F, Javidnia K, Amoli MA. Chemical composition of the fixed and volatile oils of Nigella sativa L. from Iran. Z Naturforsch C 2003;58(9-10):629-31. https://doi.org/10.1515/znc-2003-9-1004.
Woo CC, Kumar AP, Sethi G, Tan KH. Thymoquinone: Potential cure for inflammatory disorders and cancer. Biochem Pharmacol 2012;83(4):443-51. https://doi.org/10.1016/j.bcp.2011.09.029.
Bourgou S, Ksouri R, Bellila A, Skandrani I, Falleh H, Marzouk B. Phenolic composition and biological activities of Tunisian Nigella sativa L. shoots and roots. C R Biol 2008;331(1):48-55. https://doi.org/10.1016/j.crvi.2007.11.001.
Wichtl M. Herbal Drugs and Phytopharmaceuticals: A Handbook for Practice on a Scientific Basis. Boca Raton, FL: CRC Press; 2004. p. 416-7.
Gruz J, Novak O, Strnad M. Rapid analysis of phenolic acids in beverages by UPLC-MS/MS. Food Chem 2008;111(3):789-94. https://doi.org/10.1016/j.foodchem.2008.05.014.
Sosulski F, Krygier K, Hogge L. Free, esterified, and insoluble-bound phenolic acids. 3. Composition of phenolic acids in cereal and potato flours. J Agric Food Chem 1982;30(2):337-40. https://doi.org/10.1021/jf00110a030.
Ayaz FA, Hayirlioglu-Ayaz S, Gruz J, Novak O, Strnad M. Separation, characterization, and quantitation of phenolic acids in a little-known blueberry (Vaccinium arctostaphylos L.) Fruit by HPLC-MS. J Agric Food Chem 2005;53(21):8116-22. https://doi.org/10.1021/jf058057y.
Ellman GL, Courtney KD, Andres V Jr, Feather-Stone RM. A new and rapid colorimetric determination of acetylcholinesterase activity. Biochem Pharmacol 1961;7(2):88-95. https://doi.org/10.1016/0006-2952(61)90145-9.
Aebi H. Catalase in vitro. Methods Enzymol 1984;105:121-6. https://doi.org/10.1016/S0076-6879(84)05016-3.
Bauer AW, Kirby WM, Sherris JC, Turck M. Antibiotic susceptibility testing by a standardized single disk method. Am J Clin Pathol 1966;45(4):493-6.
Abdullah M, Koc AB. Kinetics of ultrasound assited oil extraction from black seed (Nigella sativa). J Food Process Preserv 2013;37(5):814-23.
DOI: 10.1111/j.1745-4549.2012.00704.x.
Robbins RJ. Phenolic acids in foods: An overview of analytical methodology. J Agric Food Chem 2003;51(10):2866-87. https://doi.org/10.1021/jf026182t.
Fiamegos YC, Nanos CG, Vervoort J, Stalikas CD. Analytical procedure for the in-vial derivatization - Extraction of phenolic acids and flavonoids in methanolic and aqueous plant extracts followed by gas chromatography with mass-selective detection. J Chromatogr A 2004;1041(1-2):11-8. https://doi.org/10.1016/j.chroma.2004.04.041.
Urbánek M, Blechtová L, Pospísilová M, Polásek M. On-line coupling of capillary isotachophoresis and capillary zone electrophoresis for the determination of flavonoids in methanolic extracts of Hypericum perforatum leaves or flowers. J Chromatogr A 2002;958(1-2):261-71. https://doi.org/10.1016/S0021-9673(02)00316-3.
Zhang Y, Liu C, Yu M, Zhang Z, Qi Y, Wang J, et al. Application of accelerated solvent extraction coupled with high-performance counter-current chromatography to extraction and online isolation of chemical constituents from Hypericum perforatum L. J Chromatogr A 2011;1218(20):2827-34. https://doi.org/10.1016/j.chroma.2011.03.007.
Yu K, Little D, Plumb R, Smith B. High-throughput quantification for a drug mixture in rat plasma-A comparison of ultra performance liquid chromatography/tandem mass spectrometry with high-performance liquid chromatography/tandem mass spectrometry. Rapid Commun Mass Spectrom 2006;20(4):544-52. https://doi.org/10.1002/rcm.2336.
Winkel-Shirley B. Biosynthesis of flavonoids and effects of stress. Curr Opin Plant Biol 2002;5(3):218-23. https://doi.org/10.1016/S1369-5266(02)00256-X.
Dai J, Mumper RJ. Plant phenolics: Extraction, analysis and their antioxidant and anticancer properties. Molecules 2010;15(10):7313-52. https://doi.org/10.3390/molecules15107313.
Barz W, Hoesel W. Metabolism and degradation of phenolic compounds in plants. Biochemistry of Plant Phenolics. Berlin: Springer; 1979. p. 339-69.
Toma CC, Olah NK, Vlase L, Mogoan C, Mocan A. Comparative studies on polyphenolic composition, antioxidant and diuretic effects of Nigella sativa L. (Black cumin) and Nigella damascena L. (Lady-in-a-mist) seeds. Molecules 2015;20(6):9560-74. https://doi.org/10.3390/molecules20069560.
Mariod AA, Ibrahim RM, Ismail M, Ismail N. Antioxidant activity and phenolic content of phenolic rich fractions obtained from black cumin (Nigella sativa) seedcake. Food Chem 2009;116(1):306-12. https://doi.org/10.1016/j.foodchem.2009.02.051.
Rice-Evans C, Miller N, Paganga G. Antioxidant properties of phenolic compounds. Trends Plant Sci 1997;2(4):152-9. https://doi.org/10.1016/S1360-1385(97)01018-2.
Buccafusco JJ. Cognitive Enhancing Drugs. Berlin: Verlag; 2012.
Jukic M, Politeo O, Maksimovic M, Milos M, Milos M. In vitro acetylcholinesterase inhibitory properties of thymol, carvacrol and their derivatives thymoquinone and thymohydroquinone. Phytother Res 2007;21(3):259-61. https://doi.org/10.1002/ptr.2063.
Scott LJ, Goa KL. Galantamine: A review of its use in Alzheimer's disease. Drugs 2000;60(5):1095-122. https://doi.org/10.2165/00003495-200060050-00008.
Sekeroglu N, Senol FS, Orhan IE, Gulpinar AR, Kartal M, Sener B. In vitro prospective effects of various traditional herbal coffees consumed in Anatolia linked to neurodegeneration. Food Res Int 2012;45(1):197-203. https://doi.org/10.1016/j.foodres.2011.10.008.
D'Autréaux B, Toledano MB. ROS as signalling molecules: Mechanisms that generate specificity in ROS homeostasis. Nat Rev Mol Cell Biol 2007;8(10):813-24. https://doi.org/10.1038/nrm2256.
Nikaido H, Vaara M. Molecular basis of bacterial outer membrane permeability. Microbiol Rev 1985;49(1):1-32.
Cowan MM. Plant products as antimicrobial agents. Clin Microbiol Rev 1999;12(4):564-82.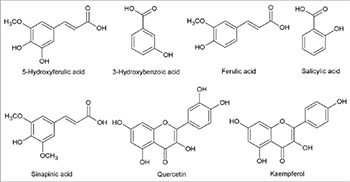 Downloads
Additional Files
How to Cite
1.
Topcagic A, Cavar Zeljkovic S, Karalija E, Galijasevic S, Sofic E. Evaluation of phenolic profile, enzyme inhibitory and antimicrobial activities of Nigella sativa L. seed extracts. Biomol Biomed [Internet]. 2017Nov.20 [cited 2023Jan.31];17(4):286-94. Available from: https://www.bjbms.org/ojs/index.php/bjbms/article/view/2049