Oxidative stress status in elite athletes engaged in different sport disciplines
Keywords:
Oxidative stress, elite athletes, different sport disciplines
Abstract
Exercise training may increase production of free radicals and reactive oxygen species in different ways. The training type and intensity may influence free radicals production, which leads to differences in oxidative stress status between athletes, but the results of the previous studies are incosistent. The aim of our study was to estimate oxidative stress status in elite athletes engaged in different sport disciplines. The study included 39 male highly skilled professional competitors with international experience (2 Olympic players): 12 wrestlers, 14 soccer players and 13 basketball players in whom we determined the levels of advanced oxidation protein products (AOPP) and malondialdehyde (MDA), as markers of oxidative stress and the total antioxidative capacity (ImAnOX) using commercially available assay kits. The mean AOPP concentration was not significantly different between soccer players, wrestler and basketball players (60.0 ± 23.0 vs. 68.5 ± 30.8 and 80.72 ± 29.1 μmol/L respectively). Mean ImAnOX concentration was not different between soccer players (344.8 ± 35.6 μmol/L), wrestlers (342.5 ± 36.2 μmol/L) and basketball players (347.95 ± 31.3 μmol/L). Mean MDA concentration was significantly higher in basketball players (1912.1 ± 667.7 ng/mL) compared to soccer players (1060.1 ± 391.0 ng/mL, p=0.003). In spite of this fact, oxidative stress markers levels were increased compared to referral values provided by the manufacturer. Type of sports (soccer, wrestler or basketball) have no impact on the levels of oxidative stress markers. Elite sports engagement is a potent stimulus of oxidative stress that leads to the large recruitment of antioxidative defense. Oxidative stress status monitoring followed by appropriate use of antioxidants is recommended as a part of training regime.
Downloads
Download data is not yet available.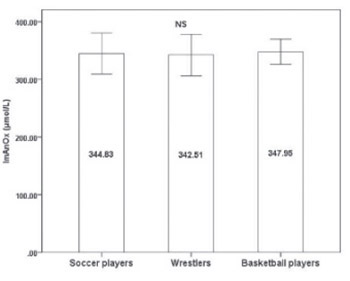 Downloads
Additional Files
How to Cite
1.
Hadžović - Džuvo A, Valjevac A, Lepara O, Pjanić S, Hadžimuratović A, Mekić A. Oxidative stress status in elite athletes engaged in different sport disciplines. Biomol Biomed [Internet]. 2014May20 [cited 2023Feb.9];14(2):56-62. Available from: https://www.bjbms.org/ojs/index.php/bjbms/article/view/2262
Section
Translational and Clinical Research