Changes in activated partial thromboplastin time and international normalised ratio after on-pump and off-pump surgical revascularization of the heart
Keywords:
CABG, on-pump, off -pump, APTT, INR
Abstract
Surgical revascularization of the heart (CABG - coronary artery bypass grafting) is one way of treating coronary heart disease. Bleeding is one of the serious and frequent complications of heart surgery and can result in increased mortality and morbidity. Hemostasis disorder may be secondary consequences of surgical bleeding, preoperative anticoagulant therapy, and the use of cardiopulmonary bypass. Tests used for routine evaluation of the coagulation system are activated partial thromboplastin time (APTT) and international normalized ratio (INR). The study encountered 60 patients who were hospitalized at the Clinic for Cardiovascular Diseases, University Clinical Center Tuzla. Patients underwent elective coronary artery bypass heart surgery either with cardiopulmonary bypass (on-pump CABG) or without it (off-pumpCABG). The aim of this study was to compare the changes in coagulation tests (APTT, INR) in patients who were operated on-pump and patients operated off-pump. Our study showed that the values of APTT and INR tend to increase immediately after surgery. Twenty-four hours after surgery these values are declining and they are approaching the preoperative values in all observed patients (p <0.05). Comparing APTT between the groups we found that postoperative APTT levels are significantly higher in the group of patients who underwent surgery with cardiopulmonary bypass (p <0.05). Changes in coagulation tests after surgical revascularization of the heart are more pronounced in patients who were operated with on-pump technique compared to patients operated off-pump technique.
Downloads
Download data is not yet available.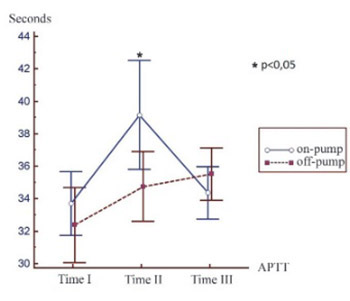 Downloads
Additional Files
How to Cite
1.
Selimović Čeke L, Imamović S, Ljuca F, Jerkić Z, Imamović G, Hadžimešić M, Pojskić A, Kovčić J. Changes in activated partial thromboplastin time and international normalised ratio after on-pump and off-pump surgical revascularization of the heart. Biomol Biomed [Internet]. 2014May20 [cited 2023Feb.8];14(2):70-4. Available from: https://www.bjbms.org/ojs/index.php/bjbms/article/view/2265
Section
Translational and Clinical Research