Is minimally invasive application by intramedullary osteosynthesis in comparison with volar plating real benefit in the treatment of distal radius fractures?
Keywords:
Distal radius fracture, locking plate osteosynthesis, intramedullary osteosynthesis, complications
Abstract
Purpose of the study: Can minimally invasive intramedullary osteosynthesis of distal radius fractures provide better therapeutic results than multidirectional locking plates. Retrospective study of 68 patients operated for distal radius fractures, 18 were treated with intramedullary X-screw (XSCR) fixation and 50 with the multidirectional angle-stable plate system (APTUS). The evaluation at 1-year follow-up included functional status of the wrist and hand, and radiographic findings. In the XSCR group, the functional outcomes of the treated extremity did not achieve values comparable with those of the uninjured side in any of the parameters measured. The radiographic findings did not meet the requirements of successful healing due to failure to restore an anatomical volar tilt in 22.2% cases. In the APTUS group, comparable values of the injured and the uninjured side were achieved in radial deviation, ulnar deviation, pronation, supination and grip strength. The radiographic criteria of successful healing were met by all fractures treated by locking plate osteosynthesis. Implant migration associated with secondary displacement of bone fragments was recorded in 33.3 % of the XSCR patients and only in 4.0 % of the APTUS patients. The overall evaluation show that intramedullary osteosynthesis does not produce better treatment outcomes compared with plate osteosynthesis in indicated types of fractures.
Downloads
Download data is not yet available.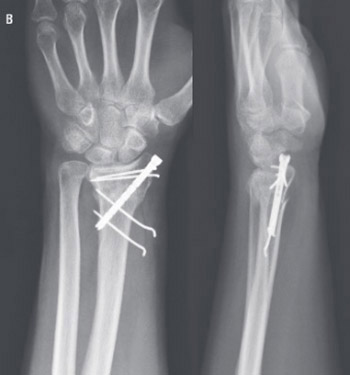 Downloads
Additional Files
How to Cite
1.
Vlček M, Jaganjac E, Jonáš D, Kebrle R. Is minimally invasive application by intramedullary osteosynthesis in comparison with volar plating real benefit in the treatment of distal radius fractures?. Biomol Biomed [Internet]. 2014May20 [cited 2023Jan.31];14(2):81-8. Available from: https://www.bjbms.org/ojs/index.php/bjbms/article/view/2268
Section
Translational and Clinical Research