Clinical relevance of IL-6 gene polymorphism in severely injured patients
Keywords:
polymorphisms of interleukin-6 genes, IL-6, polytrauma, outcome prognosis
Abstract
In polytrauma, injuries that may be surgically treated under regular circumstances due to a systemic inflammatory response become life-threatening. The inflammatory response involves a complex pattern of humoral and cellular responses and the expression of related factors is thought to be governed by genetic variations. This aim of this paper is to examine the influence of interleukin (IL) 6 single nucleotide polymorphism (SNP) -174C/G and -596G/A on the treatment outcome in severely injured patients. Forty-seven severely injured patients were included in this study. Patients were assigned an Injury Severity Score. Blood samples were drawn within 24 h after admission (designated day 1) and on subsequent days (24, 48, 72 hours and 7 days) of hospitalization. The IL-6 levels were determined through ELISA technique. Polymorphisms were analyzed by a method of Polymerase Chain Reaction-Restriction Fragment Length Polymorphism (PCR). Among subjects with different outcomes, no statistically relevant difference was found with regards to the gene IL-6 SNP-174G/C polymorphism. More than a half of subjects who died had the SNP-174G/C polymorphism, while this polymorphism was represented in a slightly lower number in survivors. The incidence of subjects without polymorphism and those with heterozygous and homozygous gene IL-6 SNP-596G/A polymorphism did not present statistically significant variations between survivors and those who died. The levels of IL-6 over the observation period did not present any statistically relevant difference among subjects without the IL-6 SNP-174 or IL- 6 SNP -596 gene polymorphismand those who had either a heterozygous or a homozygous polymorphism.
Downloads
Download data is not yet available.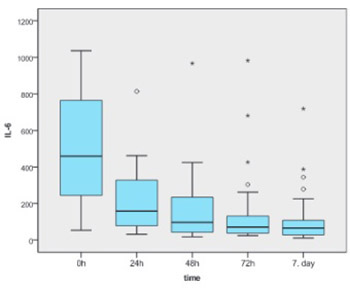 Downloads
Additional Files
How to Cite
1.
Jeremić V, Alempijević T, Mijatović S, Šijački A, Dragašević S, Pavlović S, Miličić B, Krstić S. Clinical relevance of IL-6 gene polymorphism in severely injured patients. Biomol Biomed [Internet]. 2014May20 [cited 2023Jan.31];14(2):110-7. Available from: https://www.bjbms.org/ojs/index.php/bjbms/article/view/2274