The osteoplastic effectiveness of the implants made of mesh titanium nickelide constructs
Keywords:
implant, titanium nickelide, bone defect, reparative osteogenesis
Abstract
The purpose of the work was to study the features of reparative osteogenesis for filling the defect of tubular bone under implantation of meshtitanium nickelide constructs. Tibial fenestrated defect was modeled experimentally in 30 Wistar pubertal rats, followed by implant intramedullary insertion. The techniques of radiography, scanning electron microscopy and X-ray electron probe microanalysis were used. The mesh implant of titanium nickelide has been established to possess biocompatibility, osteoconductive and osteoinductive properties, the zone of osteogenesis and angiogenesis is created around it, bone cover is formed. Osteointegration of the implant occurs early, by 7 days after surgery, and by 30 days after surgery organotypical re-modelling of the regenerated bone takes place, as well as the defect is filled with lamellar bone tissue by the type of bone wound primary adhesion. By 30 days after surgery mineral content of the regenerated bone tissue approximates to the composition of intact cortex mineral phase.
Downloads
Download data is not yet available.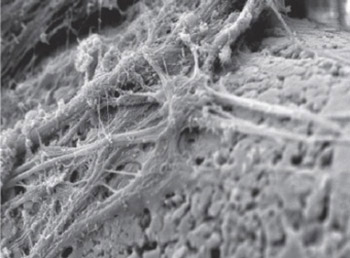 Downloads
Additional Files
How to Cite
1.
Mikhailovich Irianov I, Vladimirovna Diuriagina O, Iurevna Karaseva T, Anatolevich Karasev E. The osteoplastic effectiveness of the implants made of mesh titanium nickelide constructs. Biomol Biomed [Internet]. 2014May20 [cited 2023Mar.28];14(1):4-7. Available from: https://www.bjbms.org/ojs/index.php/bjbms/article/view/2284