Increased coronary intervention rate among diabetic patients with poor glycaemic control: a cross-sectional study
Keywords:
Diabetes mellitus, glycaemic control, coronary artery disease, revascularization
Abstract
The relationship between glycaemic control and coronary artery disease (CAD) in type 2 diabetes mellitus (T2DM) is controversial. In the current cross-sectional study, we addressed the relationship between Hemoglobin A1c (HbA1c) values and the need for revascularization among diabetic patients undergoing coronary angiography. A total of 301 consecutive patients with known T2DM (age 61.8±10.1 years, 46.2 % women) requiring coronary angiography due to CAD symptoms were included. T2DM patients were categorized into two groups based on their HbA1c values: 93 (30.9%) diabetics with good glycaemic control (HbA1c≤7 %), and 208 (69.1%) diabetics with poor glycaemic control(HbA1c>7 %). A total of 123 patients (40.9%) required revascularization. The revascularization rate was 28.0% among T2DM patients with good glycaemic control and 46.6% among T2DM patients with poor glycaemic control, respectively (p=0.002). In a logistic regression analysis, the need for revascularization was predicted by poor glycaemic control (Odds Ratio [OR] 2.26, 95% Confidence Interval [CI] 1.32-3.82; p=0.003) adjusted for age, gender, Body-Mass-Index and diabetes duration. Moreover, there was a linear relationship between HbA1c values and number of affected coronary arteries (r= 0.169; p=0.003). Our data suggest that there is a close association between poorglycaemic control and increased revascularization rate in T2DM, which should be considered in primary and secondary prevention models.
Downloads
Download data is not yet available.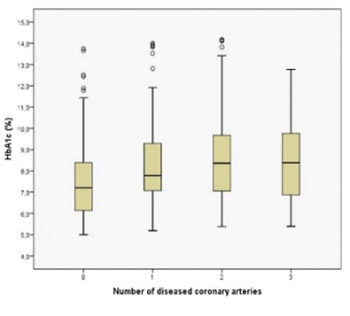 Downloads
Additional Files
How to Cite
1.
Çetin S, Akif Öztürk M, Barındık N, İmren E, Peker Y. Increased coronary intervention rate among diabetic patients with poor glycaemic control: a cross-sectional study. Biomol Biomed [Internet]. 2014May20 [cited 2023Feb.9];14(1):16-20. Available from: https://www.bjbms.org/ojs/index.php/bjbms/article/view/2286
Section
Translational and Clinical Research