Hormonal risk factors for ovarian cancer in the Albanian case-control study
Keywords:
ovarian cancer, reproductive factors, menstrual factor, multivariate analysis
Abstract
The role of reproductive factors in the aetiology of ovarian cancer had been evaluated in hospital-based case-control study conducted in Albania, providing a total dataset of 283 cases and 1019 controls. Logistic regression models were used to obtain relative risk (OR) estimates. The present results showed that parity had protective effects which increased until the forth birth and the trend in risk was significant (p < 0.01). In each stratum and overall, nulliparous women appeared to be at highly increased risk compared to those who had different number of births (OR=12.5, 95%, CI: 2.4-63.8). Evaluation of early age at menarche and late age at menopause, showed statistically significant increased risk. Furthermore, increased risk was observed between pre-menopausal women and never-married nulliparity women, respectively (OR=1.44 95%, CI: 0.88-2.36; OR=8.98, 95%, CI: 1.44 - 56.14), but ovarian cancer risk was reduced for hysterectomized women. These findings suggest that Albanian women have risk factors similar to women in western countries.
Downloads
Download data is not yet available.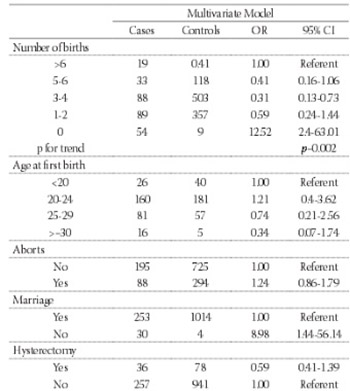 Downloads
Additional Files
How to Cite
1.
Pajenga E, Rexha T, Çeliku S, Bejtja G, Pisha M. Hormonal risk factors for ovarian cancer in the Albanian case-control study. Bosn J of Basic Med Sci [Internet]. 2013May20 [cited 2022Dec.2];13(2):89-93. Available from: https://www.bjbms.org/ojs/index.php/bjbms/article/view/2371