Spleen-Preserving Surgery in Treatment of Large Mesothelial Splenic Cyst in Children - A Case Report and Review of the Literature
Zlatan Zvizdić

Clinic of Pediatric Surgery, Clinical Centre of Sarajevo University

Kenan Karavdić

Clinic of Pediatric Surgery, Clinical Centre of Sarajevo University
Keywords:
Mesothelial splenic cysts, spleen preservation, children
Abstract
The nonparasitic primary splenic cysts are very rare clinical entity. In the past, splenectomy was the treatment of choice but with the recognition of the spleen's important immunological function, spleen-preserving surgery is the preferred treatment modality. We hereby present a case of a large splenic mesothelial cyst and its treatment with preservation of the remaining splenic parenchyma. Our case shows that spleen-preserving surgery in treatment of the large splenic cysts is possible and safe procedure with maintenance of the splenic function.
Downloads
Download data is not yet available.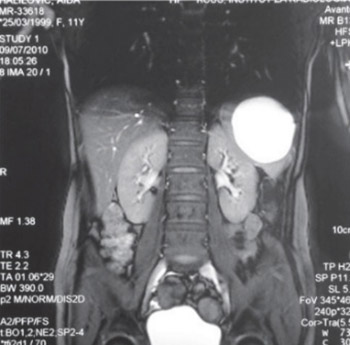 How to Cite
1.
Zvizdić Z, Karavdić K. Spleen-Preserving Surgery in Treatment of Large Mesothelial Splenic Cyst in Children - A Case Report and Review of the Literature. Bosn J of Basic Med Sci [Internet]. 2013May20 [cited 2021Sep.17];13(2):126-8. Available from: https://www.bjbms.org/ojs/index.php/bjbms/article/view/2395