Some acute phase reactants and cholesterol levels in serum of patient with Crimean-Congo haemorrhagic fever
Keywords:
acute phase reactant, cholesterol, Crimean-Congo hemorrhagic fever disease, serum Amyloid A
Abstract
The purpose of this study is to determine erythrocyte sedimentation rate (ESR), C - reactive protein (CRP), serum amyloid-A (SAA) and cholesterol levels in patients with Crimean-Congo Hemorrhagic Fever (CCHF) and determine the relationship of these parameters with the severity of disease.
By polymerase chain reaction and enzyme-linked immunosorbent assay (ELISA) method 40 patients were diagnosed as CCHF and 39 volunteer without any systemic disease whose blood were taken and their serum separated. SAA, CRP and ESR were measured with ELISA, nephelometry and Mix-Rate x100 vital diagnostic device, respectively, in serum samples. High density lipoprotein (HDL), low density lipoprotein (LDL) and total cholesterol levels were determined by using autoanalyzer HDL, LDL and total cholesterol kit (Syncron LX20).
Statistically significant difference was determined between patients and controls in terms of the levels of SAA, CRP, HDL, LDL and total cholesterol (p<0.05). However, there was no significant difference between the groups in terms of the levels of ESR. In addition, neither SAA, CRP, ESR nor HDL, LDL and total cholesterol levels varied with the severity of disease in the cases assessed (p>0.05).
Using of CRP and SAA together might increase the sensitivity of diagnosis of CCHF infection. However, none of the parameters investigated in this study were found to be a proper marker of the prognosis in CCHF. Cholesterol levels were significantly decreased in patients with CCHF, which was suggested to be associated with the increased serum levels of SAA in the patient group.
Downloads
Download data is not yet available.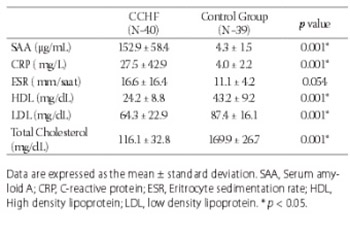 Downloads
How to Cite
1.
Sari İsmail, Bakır S, Engin A, Aydın H, Poyraz Ömer. Some acute phase reactants and cholesterol levels in serum of patient with Crimean-Congo haemorrhagic fever. Biomol Biomed [Internet]. 2013Feb.20 [cited 2023Jan.28];13(1):21-6. Available from: https://www.bjbms.org/ojs/index.php/bjbms/article/view/2408