Optimization of DNA concentration to amplify short tandem repeats of human genomic DNA
Keywords:
polymorphisms, STR, amplification, PCR, DNA profile
Abstract
Analysis of the length polymorphisms of short tandem repeats (STR) loci in the human genome has become a standard approach for comparative genotyping in many areas including disease research and diagnostics, parentage assessment, investigations of human diversity, and forensic science. The purpose of this study is to optimize the DNA concentration in ng/10μL for amplification of DNA markers. AmpFlSTR Identifiler Kit is used to amplify STR markers and capillary electrophoresis is used to analyze DNA profile of human the genome. Two sets of samples with following DNA concentration: 100 pg – 6 ng/25 μL were used for this study. There was no DNA profile detected in samples with concentrations 100 pg - 300 pg/25 μL (pictogram), while in some cases partial DNA profile was yielded. On the other hand samples with 0.4 ng – 4 ng/25 μL, yielded a full DNA profile. We were not able to obtain any profile using concentrations over 4 ng/25 μL. Improvements in detection limits/sensitivity at upper and lower DNA concentrations are of potential benefits to amplify STR of Human Genomic in order to obtain a full DNA profile. The optimal DNA concentrations which produced reliable and balanced peaks, no off scale peaks and full DNA profile for all loci were at range 0.4 ng – 3 ng/25 μL.
Downloads
Download data is not yet available.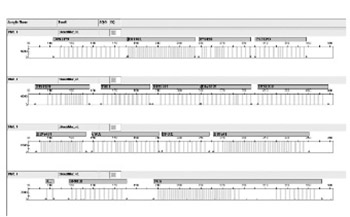 Downloads
Additional Files
How to Cite
1.
Gavazaj FQ, Mikerezi II, Morina VH, Cakaj FA, Maloku EB, Gavazaj BB, Kastrati DS, Duriqi-Maloku BA. Optimization of DNA concentration to amplify short tandem repeats of human genomic DNA. Biomol Biomed [Internet]. 2012Nov.20 [cited 2023Sep.22];12(4):236-9. Available from: https://www.bjbms.org/ojs/index.php/bjbms/article/view/2444
Section
Molecular Biology