Assessment of relatedness between neurocan gene as bipolar disorder susceptibility locus and schizophrenia
Keywords:
NCAN (neurocan), genetic association, bipolar disorder, schizophrenia
Abstract
Large scale genetic association meta-analyses showed that neurocan (NCAN) gene polymorphism rs1064395 is susceptibility locus for bipolar disorder. These studies also included patients with bipolar disorder originated from Bosnia and Herzegovina. Followed by theory of shared genetic elements between bipolar disorder and schizophrenia susceptibility, other studies explored several genetic factors with schizophrenia vulnerability as well. In this work, authors investigated the association between previously confirmed bipolar disorder genetic risk factor-neurocan with schizophrenia in a population sample of Bosnia and Herzegovina.
Ethical aspects of this research were assessed by Ethics Committee of Clinical Center University of Sarajevo. Blood samples for DNA extraction were taken from the total of 86 patients and healthy individuals who previously signed informed consent. Genotyping for rs 1064395 was done using direct sequencing method. A case-control analysis of common genetic polymorphism within neurocan gene and schizophrenia status in a consecutively sampled patient cohort have been done using Fisher-exact test with odds-ratio calculation. No statistically significant allele and genotype association with disease status was found (p>0.05).
Our finding supports the fact that large-scale genetic association studies approach need to be employed when detecting the variants with small additive effect in phenotypes with complex ethiology.
Downloads
Download data is not yet available.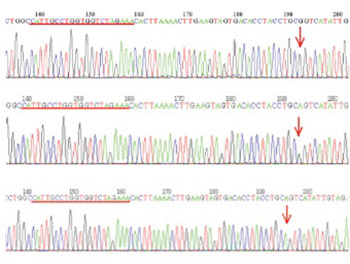 Downloads
Additional Files
How to Cite
1.
Oruč L, Kapur-Pojskić L, Ramić J, Pojskić N, Bajrović K. Assessment of relatedness between neurocan gene as bipolar disorder susceptibility locus and schizophrenia. Biomol Biomed [Internet]. 2012Nov.20 [cited 2023Sep.28];12(4):245-8. Available from: https://www.bjbms.org/ojs/index.php/bjbms/article/view/2446
Section
Translational and Clinical Research