Trefoil factor 3 isolated from human breast milk downregulates cytokines (IL8 and IL6) and promotes human beta defensin (hBD2 and hBD4) expression in intestinal epithelial cells HT-29
Keywords:
breast milk, trefoil, cytokines, defensins
Abstract
Trefoil factors (TFF) are secretory products of mucin producing cells. They play a key role in the maintenance of the surface integrity of oral mucosa and enhance healing of the gastrointestinal mucosa by a process called restitution. TFF comprises the gastric peptides (TFF1), spasmolytic peptide (TFF2), and the intestinal trefoil factor (TFF3). They have an important and necessary role in epithelial restitution within the gastrointestinal tract. Significant amounts of TFF are present in human milk. This study aimed to determine a possible correlation between TFF3 isolated from human breast milk and levels of cytokines (IL8 and IL6) and defensins (hBD2 and hBD4) in intestinal epithelial cells HT-29 treated with trefoil. Samples of human milk were collected within 2-4 weeks postpartum from healthy human mothers (18-30-years-old) by manual breast massage, and TFF3 was purified by ammonium sulfate precipitation, isoelectric precipitation, DEAE-chromatography, and gel filtration. In this work we measured the concentrations and mRNA levels of cytokines and defensins by immunoassay (ELISA) and semiquantitative RT-PCR technique, respectively. Also we measured the peroxidase activity. We present the first evidence of human milk TFF3 purification. Here we show that the presence of TFF3 isolated from milk strongly correlates with downregulation of IL8 and IL6 in human intestinal epithelial cells. On the other hand, TFF3 activated the epithelial cells in culture to produce beta defensins 2 (hBD2) and beta defensins 4 (hBD4). These findings suggest that TFF can activate intestinal epithelial cells and could actively participate in the immune system of breastfed babies by inducing the production of peptides related to innate defence, such as defensins.
Downloads
Download data is not yet available.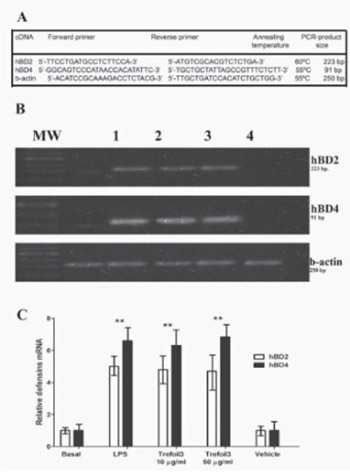 Downloads
Additional Files
How to Cite
1.
Jose Barrera G, Sanchez G, Gonzalez JE. Trefoil factor 3 isolated from human breast milk downregulates cytokines (IL8 and IL6) and promotes human beta defensin (hBD2 and hBD4) expression in intestinal epithelial cells HT-29. Biomol Biomed [Internet]. 2012Nov.20 [cited 2023Mar.26];12(4):256-64. Available from: https://www.bjbms.org/ojs/index.php/bjbms/article/view/2448