Prevalence of 1691G>A FV mutation in Poland compared with that in other Central, Eastern and South-Eastern European countries
Keywords:
Factor V, FV Leiden, centroids
Abstract
The 1691G>A FV variant has been described as a common genetic risk factor in venous thromboembolism. The purpose of this study was to provide a further frequency value for 1691G>A FV in Poland and to collate summary data from Central (Poland, Czech, Slovakia), Eastern (Russia, Belarus, Ukraine) and South-Eastern (Slovenia, Croatia, Bosnia and Herzegovina, Serbia, Montenegro, Macedonia, Bulgaria) European countries. For this purpose in 2007 the 1691G>A FV variant was analyzed by polymerase chain reaction-restriction fragment length polymorphism from DNA collected in 2005-2006. We studied 650 subjects: 400 newborns and 250 older individuals (mean age 46.1 y) from Poland and compared results with reports from other countries, as well as with the frequency trend of 845G>A HFE across South-Eastern European countries using centroid cities. From our 1691G>A FV study we identified 626 GG homozygotes, 23 GA heterozygotes, and i AA homozygote (n = 650), giving an A allele frequency of 1.9%, and a summed frequency value for Poland of 2.0% (n = 1588); the frequency in Central European countries was 3.9% (n = 4559), mostly due to the high value in the Czech Republic: 5.1% (n = 2819); the South-Eastern European countries had 2.5% (n = 2410). Among the Eastern European countries the 1691G>A FV allele frequency was 1.9% (n=791), between the South-Eastern and Eastern European countries there was no significant difference (p=0.17). We confirm that the 1691G>A FV allele frequency in Poland, as well as other countries compared, is significantly lower than that in Czech.
Downloads
Download data is not yet available.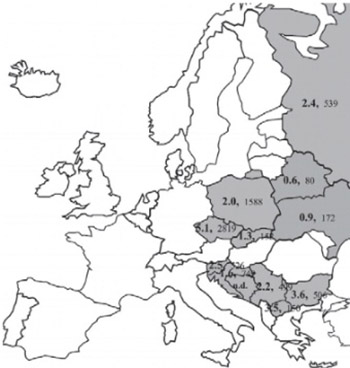 Downloads
Additional Files
How to Cite
1.
Adler G, S C Clark J, Łoniewska B, Czerska E, N Salkic N, Ciechanowicz A. Prevalence of 1691G>A FV mutation in Poland compared with that in other Central, Eastern and South-Eastern European countries. Biomol Biomed [Internet]. 2012May20 [cited 2023Sep.23];12(2):50-4. Available from: https://www.bjbms.org/ojs/index.php/bjbms/article/view/2500
Section
Molecular Biology