Microscopic polyangiitis presented with polyneuropathy of lower extremities and ANCA-associated glomerulonephritis: Case Report
Keywords:
glomerulonephritis, polyneuropathia, ANCA-antibodies, microscopic polyangiitis
Abstract
We present the case of a 67-year-old female patient with microscopic polyangiitis presented with polyneuropathy of lower extremities and rapidly progressive glomerulonephritis. Disease had started as a pain and weakening of muscular strength first in the left and than in the right leg. Electromiography has shown that a mainly dominant neurological affection was paresis of peroneal nerve in both lower extremities. In laboratory examination the titer of anti-myeloperoxidase anti-neutrophilic cytoplasmic antibodies (p-ANCA) was elevated. Due to renal involvement presented as a microscopic haematuria and decreasing of renal function, patient undergone kidney biopsy. It confirmed the immune vasculitis microscopic polyangiitis type with ANCA-associated glomerulonephritis. This is one of rare case of microscopic polyangiitis without lung simptomatology, first presented with asymmetrical polineuropathy of lower extremities. The patient was treated with methylprednisolone and cyclophosphamide in dosis adjusted to the level of disease severity and the renal function (methylprednisolone 1 mg/kg of body weight for two months with gradually tapering to the minimum effective dose and cyclophosphamide 1 mg/kg of body weight). This treatment lead to the partial remission of disease. In maintenance therapy azathioprin was introduced instead of cyclophosphamide.
Downloads
Download data is not yet available.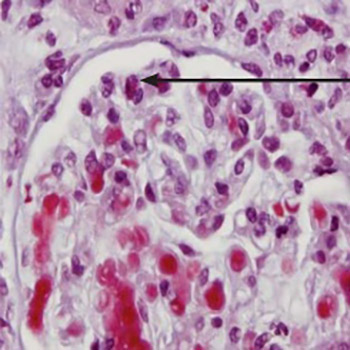 Downloads
Additional Files
How to Cite
1.
Rašić S, Džemidžić J, Karasalihović Z, Herenda V, Rebić D. Microscopic polyangiitis presented with polyneuropathy of lower extremities and ANCA-associated glomerulonephritis: Case Report. Biomol Biomed [Internet]. 2012Feb.20 [cited 2023Jan.27];12(1):55-8. Available from: https://www.bjbms.org/ojs/index.php/bjbms/article/view/2535