Laparoscopic treatment of ovarian dermoid cysts is a safe procedure
Keywords:
laparoscopy, ovarian dermoid cysts, chemical peritonitis
Abstract
Experienced laparoscopic surgeons should consider laparoscopy as an alternative to laparotomy in management of ovarian dermoid cysts in selected cases. The aim of this study was to analyze the safety of laparoscopy in ovarian dermoid cysts treatment and risk of chemical peritonitis. We report 63 cases of patients (mean age of 37) with ovarian dermoid cysts originating from the ovary, treated from 2002 to 2010. Most of the patients underwent cysts removal. In 7 patients salpingo-oophorectomy was performed. We used 15 mm trocars for removing specimens. In patients with dermoid cyst rupture peritoneal cavity was washed out thoroughly with Ringer lactate and drained for 24-48 hours. All the material extracted was sent for a histopathology examination. The diagnosis of mature ovarian dermoid cysts was confirmed in 58 (92.63%) of cases and immature ovarian dermoid cysts in 5 (7.37%) cases. Dermoid cysts were composed of tissue developed from three germinative layers in 31 (49%) patients, from two germinative layers in 25 (40%), and in 7 (11%) patients from one germinative layer. No intra or postoperative complications occurred. No signs or symptoms of chemical peritonitis were observed regardless of cystic spillage or not. We conclude that the risk of chemical peritonitis can be minimized when undertaking laparoscopic removal of ovarian dermoid cysts if the peritoneal cavity is washed out thoroughly from spillage of cyst contents. Drainage of peritoneal cavity should be performed in the patients with the ruptured dermoid cysts.
Downloads
Download data is not yet available.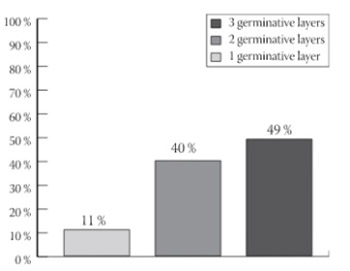 Downloads
Additional Files
How to Cite
1.
Godinjak Z, Bilalović N, Idrizbegović E. Laparoscopic treatment of ovarian dermoid cysts is a safe procedure. Biomol Biomed [Internet]. 2011Nov.20 [cited 2023Mar.28];11(4):245-7. Available from: https://www.bjbms.org/ojs/index.php/bjbms/article/view/2559
Section
Translational and Clinical Research