Intra-amniotic administration of exogenous pulmonary surfactant for improving in lung maturity of fetal rabbits with intrauterine infection caused by premature rupture of membranes
Keywords:
premature rupture of membranes, intrauterine infection, lung ultrastructure, pulmonary surfactant, fetal rabbits
Abstract
This study was to investigate the effect of intra-amniotic administration of pulmonary surfactant (PS) on lung maturation in conditions of experimentally induced premature rupture of membranes (PROM) and intrauterine infection of rabbits. To establish animal (rabbit) models of intrauterine infection caused by PROM, E. coli was intrauterinely injected in 24-and 26-day pregnant animals. Twenty healthy pregnancy adult Japanese white rabbits were divided into three groups: the infection group (8 rabbits), infection group with intra-amniotic PS administration (8 rabbits) and healthy controls (4 rabbits). Ultrastructure changes in the lung were observed under an electron microscope 19.5 hours after intervention. The results showed that the lung infection levels of fetal rabbits in the infection group and the infection group with PS had no significant difference. Bacillus bodies and infiltrated inflammatory cells can be occasionally seen in the alveoli, bronchial lumen, and cytoplasm. The type II alveolar epithelial cells (AT-II) were decreased in the infection group than that in control group. Lamellar bodies showed vacuolation changes and different levels of apoptosis. In the infection group with PS, the count of AT-II did not show an obvious decrease. Lamellar bodies increased, and different secretion forms appeared. Also, there was little apoptosis and no obvious collagen fiber hyperplasia in antenatal administration of PS group. We believe that once PROM has happened, intrauterine infection and inflammation stimulated a cascade reaction on the fetal lung, leading to abnormal changes in the alveolar ultrastructure. Intra-amniotic administration of PS can improve the fetal lung ultrastructure and its maturity.
Downloads
Download data is not yet available.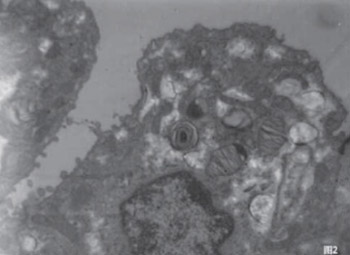 Downloads
Additional Files
How to Cite
1.
Liu J, Wu J, Yang N, Feng Z. Intra-amniotic administration of exogenous pulmonary surfactant for improving in lung maturity of fetal rabbits with intrauterine infection caused by premature rupture of membranes. Biomol Biomed [Internet]. 2011May20 [cited 2023Sep.23];11(2):103-7. Available from: https://www.bjbms.org/ojs/index.php/bjbms/article/view/2590
Section
Short Communication