HLA Association in SLE patients from Lahore-Pakistan
Keywords:
systemic lupus erythematosus, major histocompatibility complex, Human Leukocyte Antigen, Polymerase chain reaction, rheumatology, DNA-based HLA typing
Abstract
The first genetic factors to be identified as important in the pathogenesis of Systemic lupus erythematosus (SLE) were those of the major histocompatibility complex (MHC) on chromosome 6. It is now widely accepted that MHC genes constitute a part of the genetic susceptibility to SLE. The study population comprised 61 SLE patients fulfilling at least four of the American college of Rheumatology criteria for SLE and 61 healthy blood donors as controls. SLE female versus male ratio was approximately 9:1. Mean age at diagnosis was 30.35 ± 1.687 (12-68 years). DNA-based HLA Typing for HLA-A, HLA-B, and HLA-DRB1 was carried out by Polymerase chain reaction with sequence specific primers using genomic DNA obtained from blood samples. A total of 22 alleles have been studied at locus A, 37 alleles at locus B and 17 DRB1 alleles. The allelic frequencies of HLA-A, HLA-B, and HLA-DRB1 antigens in SLE patients from Pakistan were compared with the controls. A significant increase was observed in the frequency of HLA-A*01, A*03, A*11, A*23, A*26 A*69, HLA-B*27, B*40, B*49, B*51, B*52, B*53, B*54, B*95, HLA-DRBI*01, DRBI*03, DRBI*11, DRBI*14 among SLE patients indicating a positive association of these alleles with SLE. HLA-A*24, A*29, A*31, A*34, A*68, A*92, HLA-B*18, HLA-DRB1*12, were found to be decreased in the patient group as compared to controls indicating a negative association of these alleles with SLE. Thus from this study we can conclude that SLE is associated with certain MHC alleles in Pakistani population.
Downloads
Download data is not yet available.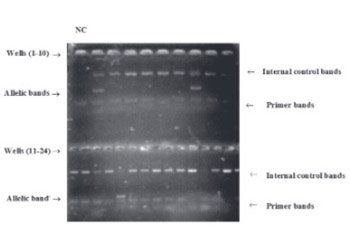 Downloads
Additional Files
How to Cite
1.
Hussain N, Jaffery G, Nasim Sabri A, Hasnain S. HLA Association in SLE patients from Lahore-Pakistan. Biomol Biomed [Internet]. 2011Feb.20 [cited 2023Nov.30];11(1):20-6. Available from: https://www.bjbms.org/ojs/index.php/bjbms/article/view/2618
Section
Molecular Biology