Predictors of Left Ventricular Remodelling in Kidney Transplant Recipents in the First Posttransplant Year
Keywords:
kidney transplantation, left ventricular remodelling, echocardiography
Abstract
Cardiovascular diseases (CVD) are a major cause of morbidity and leading cause of mortality in almost 50% of patients (pts) with chronic kidney disease (CKD), including kidney transplant recipients. Left ventricular hypertrophy (LVH) is the most common structural alteration and powerful risk factor for cardiovascular complications in the uremic patients.
The aim of this study is to analyze predictors of the left ventricular remodelling in the first year after kidney transplantation based on comparison of echocardiographic findings, which had been done before and twelve months after transplantation. In five years retrospective study, we followed up 30 kidney transplant patients in the first post-transplant year. All patients data - blood pressure, BMI, ECG, blood haemoglobin, serum protein, calcium, phosphorus, product of calcium and phosphorus, the values of parathyroid hormone, serum creatinine and creatinine clearance were recorded just before kidney transplantation and in one month interval after transplantation in the first post-transplant year. Echocardiographic examination was done before transplantation and one year after kidney transplantation.
Before transplantation, 33% of patients had normal echocardiographic finding and 67% of patients had echocardiographic signs of left ventricular hypertrophy. After first post-transplant year, 63% of patients showed normal echocardiographic finding of LV, while 37% of patients remained with LV hypertrophy. Diastolic dysfunction of LV until the end of study had been reduced in 40% of pts compared to 70% pts at the beginning of the study. The positive echocardiographic remodelling of LV significantly correlated with rising values of haemoglobin (p<0,05), creatinine clearance (p=0,039) and with the reduction of the serum creatinine values (p=0,047), as well as values of parathyroid hormone (p=0,022). These results confirmed positive relationship between echocardiographic remodelling of left ventricular hypertrophy and elimination uraemia-related risk factors after successful renal transplantation.
Downloads
Download data is not yet available.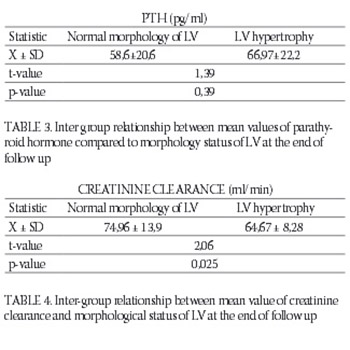 Downloads
How to Cite
1.
Džemidžić J, Rašić S, Saračević A, Rebić DD, Unčanin S, Srna A, Muslimović A. Predictors of Left Ventricular Remodelling in Kidney Transplant Recipents in the First Posttransplant Year. Bosn J of Basic Med Sci [Internet]. 2010Apr.20 [cited 2022Sep.28];10(1):S51-55. Available from: https://www.bjbms.org/ojs/index.php/bjbms/article/view/2649
Section
Translational and Clinical Research