Sex Differences in Patients with Acute Ischemic Stroke in Tuzla Region, Bosnia and Herzegovina
Keywords:
ischemic stroke, risk factors, sex
Abstract
Although many aspects of stroke are similar at both sexes, however, there are some differences and characteristics as well. The aim of this study was to analyze sex differences in patients with acute ischemic stroke (IS) regarding to risk factors, subtypes, stroke severity and outcome.
From January 1st 2001 to December 31st 2005 at the Department of Neurology Tuzla 2833 patients were admitted with acute ischemic stroke (IS). We were analyzed risk factors, subtypes, stroke severity (Scandinavian Stroke Scale), and thirty-day outcome.
There were 1484 (52,3%) female, and they were older than male (67,8 ±10,6 vs. 65,7 ± 10,5, p<0,0001). Hypertension (78% vs. 67%, p<0,0001), heart diseases (50% vs. 45%, p=0,009), atrial fibrillation (22% vs. 14%, p<0,0001) and diabetes mellitus (33% vs. 21%, p<0,0001) were frequently in female, while smoking (45% vs. 14%) and alcohol overuse (18% vs. 0,6%) in male (p<0,0001). Atherothrombotic type of ischemic stroke was frequently in male (37,4% vs. 31,6%, p=0,0013) and cardioembolic in female (21,7% vs. 15,5%, p<0,0001). At admission female had lower SS (SS 31,0±15 vs. 34,0± 15, p<0,0001). Thirty-day mortality was significantly higher in female (23,3% vs. 18,4%, p=0,0015), and favourable outcome within one month (Rankin Scale < 2) had 58% male and 51% female (p=0,001).
The frequency of ischemic stroke is higher in female who are older than male. There are some sex differences according to the distribution of risk factors and subtypes of ischemic stroke. Stroke severity at admission, thirty-day mortality, and disability are higher in female.
Downloads
Download data is not yet available.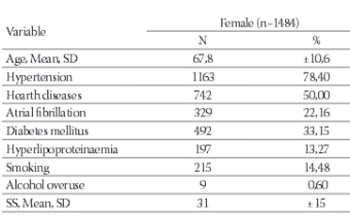 Downloads
How to Cite
1.
Salihović D, Smajlović D, Sinanović O, Kojić B. Sex Differences in Patients with Acute Ischemic Stroke in Tuzla Region, Bosnia and Herzegovina. Biomol Biomed [Internet]. 2010May20 [cited 2023Jun.6];10(2):116-20. Available from: https://www.bjbms.org/ojs/index.php/bjbms/article/view/2705
Section
Short Communication