Evaluation of Cardiovascular Risk in School Children
Keywords:
cardiovascular risk, factors, evaluation, child
Abstract
Atherosclerosis is a pathological condition that begins in early childhood, but clinically the disease manifests in older age. The aim of work was to determine frequency of atherosclerosis risk factors in healthy school children. Cross-sectional study included 214 children in mean age 10,99±2,52 years, within range 7 to 15 years. Patients body mass index, blood pressure, lipid status, dietary habits, physical activity and sedentary habits have been evaluated. Cardiovascular risk factors are significantly present in children (P<0,05) i.e. one cardiovascular risk factor is present in 47/214 (21,96%) children, two risk factors had 25/214 (11,68%) children, while 17/214 (7,94%) children had three or more cardiovascular risk factors. Obesity was present in 20/214 (9,34%) children, while overweight was present in 23/214 (10,83%) children. Hypertension was present in 10/214 (4,67%) children, and it was significantly present (p<0,05) in obese and overweight children. Total cholesterol was increased in 171/214 (8,87%) children, LDL-cholesterol was increased in 11/214 (5,14%), increased triglycerides had 4/214 (1,86%) children, while decreased HDL-cholesterol was found in (3/214, 1,40%) children. Unhealthy dietary habits were present in 45/214 (21,02%) chil- dren, 42/214 (19,62%) children is physically inactive, while sedentary habits were shown in 39/214 (18,22%) children. Research shows that a large number within study group has one or more cardiovascular risk factors that can lead to premature atherosclerosis. Using massive screening of cardiovascular risk factors, along with adequate physical activity, healthy dietary habits, reduced sedentary habits, doctors and teacher's education, parents and children can reduce premature clinical sequels in atherosclerotic process
Downloads
Download data is not yet available.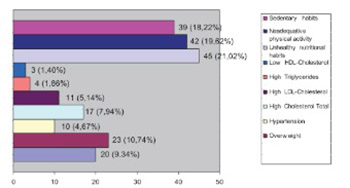 Downloads
How to Cite
1.
Sporišević L, Krželj V, Bajraktarević A, Jahić E. Evaluation of Cardiovascular Risk in School Children. Biomol Biomed [Internet]. 2009Aug.20 [cited 2023Nov.30];9(3):182-6. Available from: https://www.bjbms.org/ojs/index.php/bjbms/article/view/2803
Section
Short Communication