Sandfly – Pappataci Fever in Bosnia and Herzegovina: The new-old Disease
Keywords:
Phlebovirus, Sandfly fever viruses, TOSV phlebotomus fever, Pappataci fever
Abstract
Sandfly fever viruses (SFV) are endemic in the Mediterranean, Middle East, northern African and western Asian countries. Toscana virus (TOSV), serotype of Sandfly fever Naples virus, is among of the three most prevalent viruses associated with meningitis during the warm seasons in northern Mediterranean countries. The historical data of the sandfly fever (Pappataci fever) indicates its origin in Bosnia and Herzegovina at the end of 19th century. There is a long period of time for which there are no data on research related to the SFV in Bosnia and Herzegovina. The purpose of the study was to investigate the presence of sandfly fever in Bosnia and Herzegovina in recent years. The 68 of serum samples were obtained from February 2006 until September 2008 from a group of patients with febrile illness of unknown etiology. The sera were tested on the presence of IgG and IgM antibodies against TOSV by specific serology test- recomLine Bunyavirus IgG/IgM immuno-line assay. The recent TOSV-infection was confirmed in the patients in each year during the study: 10,71% (3/28) in 2008; 9,38% (3/32) in 2007 and 12,50% (1/8) in 2006. The presence of specific antibodies to TOSV in the sera of the patients in recent years indicates re-emerging character of the disease in this region. It would be necessary to make biological, epidemiological and clinical research on the TOSV and related phleboviruses to elucidate the problem of SFV in Bosnia and Herzegovina.
Downloads
Download data is not yet available.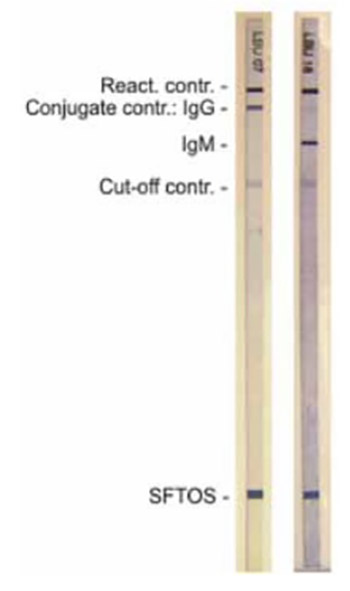 Downloads
How to Cite
1.
Hukić M, Salimović-Bešić I. Sandfly – Pappataci Fever in Bosnia and Herzegovina: The new-old Disease. Biomol Biomed [Internet]. 2009Feb.20 [cited 2023Dec.4];9(1):39-43. Available from: https://www.bjbms.org/ojs/index.php/bjbms/article/view/2854