Third Coronary Artery
Keywords:
supernumerary coronary artery, third coronary artery, dissection
Abstract
The human hart is in most cases vascularized by two coronary arteries, the right and the left one. Supernumerary or added coronary arteries are also present sometimes. The aim of this paper is to ascertain presence of supernumerary coronary arteries that arise directly from aorta, their frequency, flow, way of branching, and possibly their anastomoses with other coronary arteries. Out of 25 hearts, examined by dissection, 8 of them (32%) had conal artery. According to our opinion, the most suitable term for this artery, in order to differ it clearly from the conal branch of the right coronary artery, is third coronary artery. One hart (4%) had four coronary arteries. Both supernumerary coronary arteries arose from the right aortic sinus. The third coronary artery represents a significant way of collateral coronary circulation, as it frequently anastomoses with anterior interventricular branch.
Downloads
Download data is not yet available.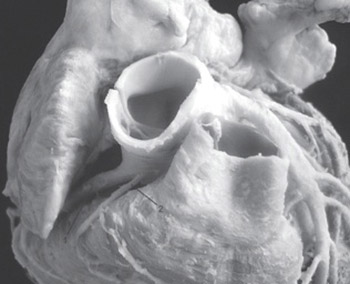 Downloads
How to Cite
1.
Lujinović A, Ovčina F, Tursić A. Third Coronary Artery. Biomol Biomed [Internet]. 2008Aug.20 [cited 2023Jan.28];8(3):226-9. Available from: https://www.bjbms.org/ojs/index.php/bjbms/article/view/2922