Amino-Terminal Pro-Brain Natriuretic Peptid in Prediction of Left Ventricular Ejection Fraction
Keywords:
natriuretic peptides, heart failure, LVEF, prediction
Abstract
We aimed to evaluate levels of amino-terminal pro-brain natriuretic peptid (NT-proBNP) in prediction of left ventricular ejection fraction (LVEF) in heart failure patients. Prospective study on 60 consecutive patients with symptoms and signs of heart failure was performed. Blood samples for NT-proBNP analysis was taken from all test subjects and echocardiography was also done in all of them. According to LVEF value, patients were divided into four groups; those with <30%, 31 to 39%, 40 to 49% and >50%. NT-proBNP values correlated with LVEF value. Regression analyis was used to evaluate how well NT-proBNP values predict LVEF. We used Receiver Operating Characteristic Curve calculation to evaluate diagnostic performance of NT-proBNP in estimation of LVEF. Average value of NT-proBNP in test group was 3191,69±642,89 pg/ml (p<0,001). Average value of NT-proBNP decreased with higher LVEF categories with significant (p<0,001) and high negative correlation (r = -0,75). Stepwise multivariate linear regression analysis showed that logarithmic value of NT-proBNP was excellent predictor of LVEF value (p<0,05). Model equation based on regression analysis was LVEF=88,645-15,311 x log (NT-proBNP). Predictive model for LVEF yielded from regression analysis had sensitivities of 98% and 81%, specificities of 20% and 90%, positive predictive values of 86% and 78% and negative predictive values of 67% and 92% for predicting patients with LVEF<50% and LVEF<40%, respectively. There was negative linear correlation between NT-proBNP and LVEF. NT-proBNP was excellent predictor of LVEF value (p<0,05).
Downloads
Download data is not yet available.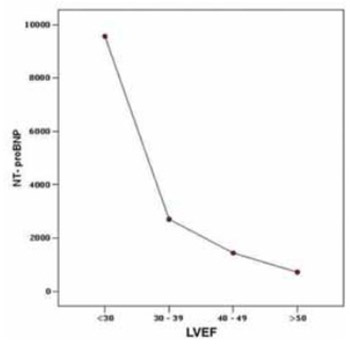 Downloads
How to Cite
1.
Bajrić M, Baraković F, Kušljugić Z, Salkić N, Jahić E, Aščerić M, Ljuca F, Mršić D, Smajić E, Čaluk J, Hajrić R. Amino-Terminal Pro-Brain Natriuretic Peptid in Prediction of Left Ventricular Ejection Fraction. Biomol Biomed [Internet]. 2008Aug.20 [cited 2023Jan.28];8(3):282-6. Available from: https://www.bjbms.org/ojs/index.php/bjbms/article/view/2934
Section
Translational and Clinical Research