N-Terminal Pro-Brain Natriuretic Peptide (Nt-proBNP) Serum Concentrations in Apparently Healthy Bosnian Women
Keywords:
NTproBNP serum concentration, females, healthy subjects
Abstract
Brain natriuretic peptide (BNP) is a cardiac hormone secreted predominantly from the ventricles. This hormone is produced as pre-prohormone BNP (pro BNP), than cleaved by corine to biologically active 32-aminoacid BNP and non-biologically active N-terminal-pro brain natriuretic peptide (NTproBNP). NTproBNP has been found to be a useful marker for the diagnosis of heart failure and left ventricular systolic dysfunction. Recent studies showed that concentration of BNP and NTproBNP predict cardiovascular disease in apparently healthy individuals but their full screening characteristics are not firmly established. As NTproBNP serum concentration is altered by numerous factors there are also interindividual variations in NTproBNP values.
There are no previous results for Bosnian population so the aim of this study was to asses normal range of NTproBNP serum concentrations in apparently healthy women using electrochemiluminescence immunoassay (Elecsys, Roche Diagnostic). A group of 45, healthy females, aged 39,19 (±6,62), were enrolled in this study. Mean serum concentration of NTproBNP was 60,32 (±36,25) pg/ml, with the range of 112,60 pg/ml (minimum-maximum:13,6-126,00 pg/ml).
We conclude that NTproBNP serum concentration in apparently healthy Bosnian women was not different from the average values of NTproBNP obtained on Europen's population. Thus, we suggest that the NTproBNP serum upper cut off values measured by using electrochemiluminescence immunoassay "ECLIA" (Elecsys 2010, Roche Diagnostic) for Bosnian females, aged <50 years, should be 155 pg/ml as reported by Roche Diagnostic.
Downloads
Download data is not yet available.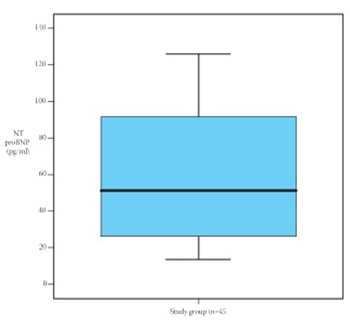 Downloads
How to Cite
1.
Hadžović-Džuvo A, Kučukalić-Selimović E, Nakaš-Ićindić E, Zaćiragić A, Dražeta Z. N-Terminal Pro-Brain Natriuretic Peptide (Nt-proBNP) Serum Concentrations in Apparently Healthy Bosnian Women. Biomol Biomed [Internet]. 2007Nov.20 [cited 2023Nov.30];7(4):307-10. Available from: https://www.bjbms.org/ojs/index.php/bjbms/article/view/3018