No Changes in Serum Concentrations of Interleukin 10 (IL-10) and Interferon γ (IF-γ) Before and After Treatment of the Thyroid Eye Disease (TED)
Keywords:
thyroid eye disease, treatment, corticosteroids, orbital irradiation, orbital decompression
Abstract
TED is a severe eye disease leading in rare cases to decrease of sight, optic nerve compression and blindness. Recently, significant progresses in understanding the disease have been done. Nevertheless, the treatment of the disease, especially in its severe form remains challenging. Glucocorticoids (GC) have been the basis of the treatment for a long time. Orbital irradiation (OI) and optical decompression (OD) are also used in managing the severe forms of TED. Somatostatin, intravenous immunoglobulin have been also used, with conflicting results. Regarding the potential for the treatment of TED with cytokine antagonists, controlled clinical studies are not available. Since cytokines play an important role in the pathogenesis of the TED, they seemed to be logical choice for modern TED treatment. It has been shown that both Th1 (interleukin-2, tumor necrosis factor γ, interleukin γ) and Th2 (interleukin-4,-5-,-10) profile T cells are activated in the TED. We therefore measured interleukin-γ, IF-γ and interleukin -10 (IL-10)(Th1 and Th2 pattern) to assess its relationship to the course of the disease. This paper shows that both Th1 (Il-2) and Th2 (If-γ) pathways represented by those two cytokines are not involved (Il-10 before 2,29±5,23 and after treatment 3,77±8,44; IF γ before 0,50±0,24 and after treatment 0,35±0,19). No relationship to the response to treatment was found. GC resulted in positive response in 8/22 patients, OI (12 patients) given after CS therapy, resulted in a response in all patients. Increase in proptosis, loss of visual acuity is spite of CS treatment prompted OD in two patients, who both recovered visual acuity and proptosis fell under 25mm Hertel.
Downloads
Download data is not yet available.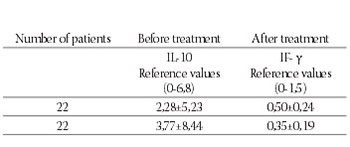 Downloads
How to Cite
1.
Laban-Gučeva N, Antova M, Bogoev M. No Changes in Serum Concentrations of Interleukin 10 (IL-10) and Interferon γ (IF-γ) Before and After Treatment of the Thyroid Eye Disease (TED). Biomol Biomed [Internet]. 2008Nov.20 [cited 2023Nov.30];7(4):358-62. Available from: https://www.bjbms.org/ojs/index.php/bjbms/article/view/3027
Section
Translational and Clinical Research