Brucella Melitensis Review of the Human Infection Case
Keywords:
Brucellosis, Prosthetic joint infection, Returning traveller, Travel medicine
Abstract
Brucella spp. prosthetic joint infections are infrequently reported in the literature, particularly in returning travellers, and optimal treatment is unknown.

METHOD:

We describe a prosthetic joint infection (PJI) caused by Brucella melitensis in a traveller returning to the UK from Thailand, which we believe to be the first detailed report of brucellosis in a traveller returning from this area. The 23 patients with Brucella-related PJI reported in the literature are summarised, together with our case.

RESULTS:

The diagnosis of Brucella-related PJI is difficult to make; only 30% of blood cultures and 75% of joint aspiration cultures were positive in the reported cases. Culture of intraoperative samples provides the best diagnostic yield. In the absence of radiological evidence of joint loosening, combination antimicrobial therapy alone may be appropriate treatment in the first instance; this was successful in 6/7 [86%] of patients, though small numbers of patients and the likelihood of reporting bias warrant caution in drawing any firm conclusions about optimal treatment. Aerosolisation of synovial fluid during joint aspiration procedures and nosocomial infection has been described.

CONCLUSIONS:

Brucella-related PJI should be considered in the differential of travellers returning from endemic areas with PJI, including Thailand. Personal protective equipment including fit tested filtering face piece-3 (FFP3) mask or equivalent is recommended for personnel carrying out joint aspiration when brucellosis is suspected. Travellers can reduce the risk of brucellosis by avoiding unpasteurised dairy products and animal contact (particularly on farms and abattoirs) in endemic areas and should be counselled regarding these risks as part of their pre-travel assessment.
Downloads
Download data is not yet available.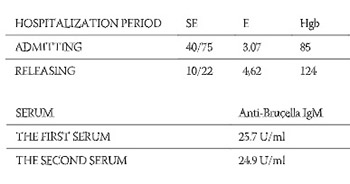 Downloads
How to Cite
1.
Zvizdić Šukrija, Čengić D, Bratić M, Mehanić S, Pinjo F, Hamzić S. Brucella Melitensis Review of the Human Infection Case. Biomol Biomed [Internet]. 2006Feb.20 [cited 2023Feb.9];6(1):15-8. Available from: https://www.bjbms.org/ojs/index.php/bjbms/article/view/3203