Cannabinoids in cancer treatment: Therapeutic potential and legislation
Keywords:
Cannabinoids, antitumor effects, signaling pathways, legislation
Abstract
The plant Cannabis sativa L. has been used as an herbal remedy for centuries and is the most important source of phytocannabinoids. The endocannabinoid system (ECS) consists of receptors, endogenous ligands (endocannabinoids) and metabolizing enzymes, and plays an important role in different physiological and pathological processes. Phytocannabinoids and synthetic cannabinoids can interact with the components of ECS or other cellular pathways and thus affect the development/progression of diseases, including cancer. In cancer patients, cannabinoids have primarily been used as a part of palliative care to alleviate pain, relieve nausea and stimulate appetite. In addition, numerous cell culture and animal studies showed antitumor effects of cannabinoids in various cancer types. Here we reviewed the literature on anticancer effects of plant-derived and synthetic cannabinoids, to better understand their mechanisms of action and role in cancer treatment. We also reviewed the current legislative updates on the use of cannabinoids for medical and therapeutic purposes, primarily in the EU countries. In vitro and in vivo cancer models show that cannabinoids can effectively modulate tumor growth, however, the antitumor effects appear to be largely dependent on cancer type and drug dose/concentration. Understanding how cannabinoids are able to regulate essential cellular processes involved in tumorigenesis, such as progression through the cell cycle, cell proliferation and cell death, as well as the interactions between cannabinoids and the immune system, are crucial for improving existing and developing new therapeutic approaches for cancer patients. The national legislation of the EU Member States defines the legal boundaries of permissible use of cannabinoids for medical and therapeutic purposes, however, these legislative guidelines may not be aligned with the current scientific knowledge.
Downloads
Download data is not yet available.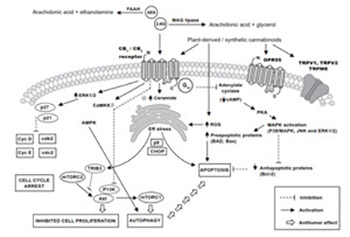 Downloads
Additional Files
How to Cite
1.
Dariš B, Tancer Verboten M, Knez Željko, Ferk P. Cannabinoids in cancer treatment: Therapeutic potential and legislation. Biomol Biomed [Internet]. 2019Feb.12 [cited 2023Dec.5];19(1):14-23. Available from: https://www.bjbms.org/ojs/index.php/bjbms/article/view/3532