p16/Ki-67 dual staining has a better accuracy than human papillomavirus (HPV) testing in women with abnormal cytology under 30 years old
Laurențiu Pirtea

Department of Obstetrics and Gynecology, University of Medicine and Pharmacy "Victor Babeş" Timişoara, Timișoara, Romania

https://orcid.org/0000-0002-4398-2492

Cristina Secosan

Department of Obstetrics and Gynecology, University of Medicine and Pharmacy "Victor Babeş" Timişoara, Timișoara, Romania

https://orcid.org/0000-0003-1355-3790

Madalin Margan

Department of Obstetrics and Gynecology, University of Medicine and Pharmacy "Victor Babeş" Timişoara, Timișoara, Romania

https://orcid.org/0000-0003-2375-2793

Lavinia Moleriu

Department of Informatics and Statistics, University of Medicine and Pharmacy "Victor Babeş" Timişoara, Timișoara, Romania

Oana Balint

Department of Obstetrics and Gynecology, University of Medicine and Pharmacy "Victor Babeş" Timişoara, Timișoara, Romania

https://orcid.org/0000-0003-4218-4189

Dorin Grigoras

Department of Obstetrics and Gynecology, University of Medicine and Pharmacy "Victor Babeş" Timişoara, Timișoara, Romania

Ioan Sas

Department of Obstetrics and Gynecology, University of Medicine and Pharmacy "Victor Babeş" Timişoara, Timișoara, Romania

Florin Horhat

Department of Microbiology, University of Medicine and Pharmacy "Victor Babeş" Timişoara, Timișoara, Romania

https://orcid.org/0000-0001-6133-0204

Adelina Jianu

Department of Anatomy, University of Medicine and Pharmacy "Victor Babeş" Timişoara, Timișoara, Romania

https://orcid.org/0000-0002-4238-7253

Răzvan Ilina

Department of Surgery, University of Medicine and Pharmacy "Victor Babeş" Timişoara, Timișoara, Romania
Keywords:
Human papillomavirus, immunocytochemistry, p16/Ki-67 dual staining, HPV genotyping
Abstract
Due to a high rate of transient human papillomavirus (HPV) infection, HPV genotyping has a low specificity for high-grade cervical lesions, especially in young women. p16/Ki-67 dual immunocytochemical staining can also be used for the detection of oncogenic changes in cervical cells. Our aim was to compare the performance of p16/Ki-67 dual staining and HPV genotyping in the detection of high-grade cervical lesions in patients with atypical squamous cells of undetermined significance (ASCUS)/low-grade squamous intraepithelial lesion (LSIL) on Pap smear. We retrospectively analyzed 310 patients with ASCUS/LSIL on Pap smear, who underwent colposcopy. Among these, 161 patients with suspected lesions detected by colposcopy were referred for biopsy. HPV genotyping by LINEAR ARRAY HPV Genotyping Test (CE-IVD) and p16/Ki-67 dual staining by CINtec PLUS Cytology kit was performed prior to cervical biopsy. The overall sensitivity and specificity of HPV genotyping for the detection of cervical intraepithelial neoplasia (CIN) 2-3 was 79% and 72%, respectively in patients with ASCUS, and 85% and 64%, respectively in patients with LSIL. For p16/Ki-67 test, sensitivity and specificity rate was 66% and 93%, respectively in ASCUS and 59% and 79%, respectively in LSIL group. The specificity of p16/Ki-67 staining was significantly higher in both groups in patients aged <30 years compared to patients >30 years old (p < 0.001). Our results showed that p16/Ki-67 dual staining has a higher specificity compared to HPV genotyping, especially in patients under 30 years old. This indicates the usefulness of p16/Ki-67 testing in the triage of patients with ASCUS/LSIL and <30 years old, prior to referral for colposcopy and biopsy.
Downloads
Download data is not yet available.
References
Sawaya GF, Grimes DA. New technologies in cervical cytology screening: a word of caution. Obstet Gynecol. 1999; 94(2):307–10.
Saslow D, Solomon D, Lawson HW, Killackey M, Kulasingam S, Cain S et al. American Cancer Society, American Society for Colposcopy and Cervical Pathology, and American Society for Clinical Pathology screening guidelines for the prevention and early detection of cervical cancer. Am J Clin Pathol. 2012;137(4):516–542.
Bergeron C, Ikenberg H, Sideri M, Denton K, Bogers J, Schmidt D et al. Prospective evaluation of p16/Ki-67 dual-stained cytology for managing women with abnormal Papanicolaou cytology: PALMS study results. Cancer Cytopathol. 2015 Jun;123(6):373-81. doi: 10.1002/cncy.21542. Epub 2015 Apr 17.
Possati-Resende J C, Fregnani JH, Kerr LM, Mauad EC, Longatto-Filho A, Scapulatempo-Neto C. The Accuracy of p16/Ki-67 and HPV Test in the Detection of CIN2/3 in Women Diagnosed with ASC-US or LSIL. PloS one. 2015, 10(7), e0134445.
Moleriu RD, Zaharie D, Moatăr-Moleriu LC, Gruia AT, Mic AA, Mic FA. Insights into the mechanisms of thymus involution and regeneration by modeling the glucocorticoid-induced perturbation of thymocyte populations dynamics. Journal of Theoretical Biology. 2014 Jan 28;348C, pg. 80-99.
Singh G. Determination of Cutoff Score for a Diagnostic Test. The Internet Journal of Laboratory Medicine. 2006 Volume 2, Number 1.
Pirtea L, Grigoraş D, Matusz P, Pirtea M, Moleriu L, Tudor A et al. Age and HPV type as risk factors for HPV persistence after loop excision in patients with high grade cervical lesions: an observational study. BMC Surg, 2016, Oct 6;16(1):70
Pirtea L, Grigoraş D, Matusz P, Pirtea M, Moleriu L, Tudor A et al. Human Papilloma Virus Persistence after Cone Excision in Women with Cervical High Grade Squamous Intraepithelial Lesion: A Prospective Study. Canadian Journal of Infectious Diseases and Medical Microbiology, vol. 2016, Article ID 3076380, 6 pages, 2016.
Massad LS, Einstein MH, Huh WK, Katki HA, Kinney WK, Schiffman M et al. 2012 ASCCP Consensus Guidelines Conference. 2012 updated consensus guidelines for the management of abnormal cervical cancer screening tests and cancer precursors. Obstet Gynecol. 2013 Apr;121(4):829-46.
Bansal N, Wright JD, Cohen CJ, Herzog TJ. Natural history of established low grade cervical intraepithelial (CIN1) lesions. Anticancer Res. 2008;28:1763–6.
Vrdoljak-Mozetič D, Krašević M, Verša Ostojić D, Štemberger-Papić S, Rubeša-Mihaljević R, Bubonja-Šonje M. HPV16 genotype, p16/Ki-67 dual staining and koilocytic morphology as potential predictors of the clinical outcome for cervical low-grade squamous intraepithelial lesions. Cytopathology. 2015 Feb;26(1):10-8.
Palla VV, Karaolanis G, Moris D, Antsaklis A. Sentinel Lymph Node Biopsy in Uterine Cervical Cancer Patients: Ready for Clinical Use? A Review of the Literature. ISRN Surgery. 2014, Article ID 841618, 6 pages, 2014.
Bălu S, Pirtea L, Gaje P, Cîmpean AM, Raica M. The immunohistochemical expression of endocrine gland-derived-VEGF (EG-VEGF) as a prognostic marker in ovarian cancer. Rom J Morphol Embryol. 2012, 53(3):479-83.
Grigoras D, Pirtea L, Ceausu RA. Endothelial progenitor cells contribute to the development of ovarian carcinoma tumor blood vessels. Oncology Letters. 2014;7(5):1511-1514.
Pirtea L, Raica M, Cimpean AM. Endothelial cell activation and proliferation in ovarian tumors: two distinct steps as potential markers for antiangiogenic therapy response. Mol Med Rep. 2012 May;5(5):1181-4.
Klaes R, Friedrich T, Spitkovsky D, Ridder R, Rudy W, Petry U et al. Overexpression of p16(INK4A) as a specific marker for dysplastic and neoplastic epithelial cells of the cervix uteri. Int J Cancer. 2001;92:276-284.
Allia E, Ronco G, Coccia A, Luparia P, Macrì L, Fiorito C et al. Interpretation of p16(INK4a) /Ki-67 dual immunostaining for the triage of human papillomavirus-positive women by experts and nonexperts in cervical cytology. Cancer Cytopathol. 2015 Apr;123(4):212-8. doi: 10.1002/cncy.21511
Wentzensen N, Schwartz L, Zuna RE, Smith K, Mathews C, Gold MA et al. Performance of p16/Ki-67 immunostaining to detect cervical cancer precursors in a colposcopy referral population. Clin Cancer Res. 2012;18:4154–62.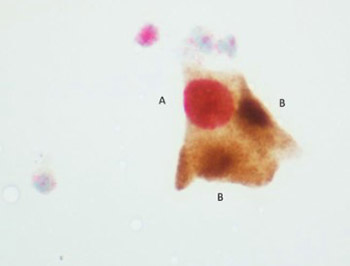 How to Cite
1.
Pirtea L, Secosan C, Margan M, Moleriu L, Balint O, Grigoras D, Sas I, Horhat F, Jianu A, Ilina R. p16/Ki-67 dual staining has a better accuracy than human papillomavirus (HPV) testing in women with abnormal cytology under 30 years old. Bosn J of Basic Med Sci [Internet]. 2019Nov.8 [cited 2021Oct.28];19(4):336-41. Available from: https://www.bjbms.org/ojs/index.php/bjbms/article/view/3560