Stereological Analysis of the Mammary Gland in Primiparous Lactating Rats during the Lead Acetate Intoxication
Keywords:
Stereological Analysis, Mammary Gland, Acetate Intoxication
Abstract
The present study was undertaken to investigate the changes in composition of the mammary gland volume unit through all phases of lactation in rats subjected to lead acetate administration via drinking water during the first pregnancy and lactation. Stereological analysis was performed on serial slices of the organs. The point of support for our study was the fact that lead, apart from being a poison of wide range, is mostly poisonous for gonads and to their supervisory neuroendocrine structures and the mammary gland, in morpho-functional sense, should be admitted as their integral part.
On the 7th day of lactation there was significant difference of the alveolar and ductal epithelium phase, which was significantly reduced in animals treated by lead. In the same animals there were larger lumens of the alveoli and ducti, more abundant connective tissue and greater number of the adipocytes but these differences in comparison to control group were not significant.
On the 14th day of lactation there was significantly greater presence of the adipocytes phase and stromal tissue while the volume of the epithelium of alveoli and ducti was significantly reduced in study group. There was also an increase of the alveoloductal lumen phase but this was not significant.
On the 21st day of lactation there were significant difference in epithelial and stromal tissue phases in two groups, having a significant decrease in the epithelium, and significant increase of stromal tissue in glands of lactating rats treated by lead acetate. There were non-significant differences as far as the presence of the adipocytes and alveoloductal lumen volume were concerned although the values for both phases in study group were above the control values.
On the basis of given results we concluded that lead changes the quantitative characteristics of the mammary gland, i.e. the composition of the volume unit of the organ through all phases of lactation.
Downloads
Download data is not yet available.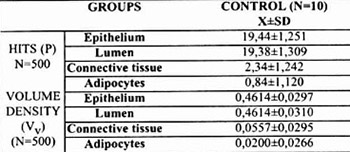 How to Cite
1.
Mornjaković Z, Kadić M. Stereological Analysis of the Mammary Gland in Primiparous Lactating Rats during the Lead Acetate Intoxication. Biomol Biomed [Internet]. 1998Feb.20 [cited 2023Jun.4];1(1):4-7. Available from: https://www.bjbms.org/ojs/index.php/bjbms/article/view/3605