Cardiovascular Responses in the Treadmill Stress Exercise in Young Adults of Sarajevo in the Period of the War
Keywords:
stress exercise, cardiovascular response, young adults, male, war
Abstract
his study was designed and performed under very difficult conditions during intensive war activities in Sarajevo. The specific characteristics of this aggressive war were a long lasting. Middle Ages siege of the city with sudden shelling and shooting of civilian targets. It can be expected that these abnormal, stressful conditions caused changes in mental and emotional reactions, as well as in the functioning of numerous organic systems. The aim of this study was to assess whether the long exposure to war conditions influenced the functioning of the cardiovascular system and its response in stress exercise in young adults of Sarajevo.
Multistage, incremental exercise treadmill testing under the Bruce protocol was performed by 14 male students of Sarajevo University (aged 18-23 years). It was planned for each subject to complete two exercise sessions in a three-month interval. Only 8 persons completed the second session because some of the subjects left Sarajevo, some were wounded, and the rest of them had to complete their duties in the Army.
The results of the two exercise sessions showed that resting values of the cardiovascular variables (heart rate, arterial blood pressure) were within physiological range. The mean maximal exercise capacity expressed as metabolic units (METS) was 15.40 for the first exercise session and 15.23 for the second one. There were neither significant differences in exercise test duration between the two exercise sessions nor in maximal achieved heart rate.
It could be concluded that in young men the overall exercise capacity was well preserved but the other results (indirectly calculated maximal oxygen uptake, V02) indicated hyperreactive response. The three-month interval was short to emphasize the differences because the war conditions, under which the testing was performed, were not changed.
Downloads
Download data is not yet available.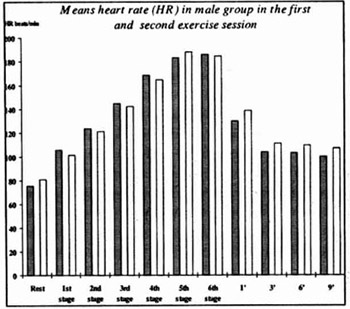 How to Cite
1.
Nakaš-Ićindić E, Mujić M, Knežević Željka, Frljak N, Kulenović H. Cardiovascular Responses in the Treadmill Stress Exercise in Young Adults of Sarajevo in the Period of the War. Biomol Biomed [Internet]. 1998Feb.20 [cited 2023Dec.1];1(1):8-11. Available from: https://www.bjbms.org/ojs/index.php/bjbms/article/view/3606
Section
Short Communication