Upregulated expression of MNX1-AS1 long noncoding RNA predicts poor prognosis in gastric cancer
Keywords:
Long noncoding RNA, lncRNA, MNX1-AS1, gastric cancer, prognosis, survival analysis
Abstract
As important regulators of gene expression long noncoding RNAs (lncRNAs) are implicated in various physiological and pathological processes, including cancer. An oncogenic role of MNX1 antisense RNA 1 (MNX1-AS1) lncRNA has been suggested in cervical cancer and glioblastoma. In this study, we investigated the clinicopathological significance and biological function of MNX1-AS1 in gastric cancer (GC). The expression of MNX1-AS1 was analyzed by qRT-PCR in 96 GC and adjacent non-tumor tissues in relation to clinicopathological features and overall survival (OS) of patients, and in five human GC cell lines compared to a normal gastric epithelial cell line. Loss-of-function experiments using small interfering RNA (siRNA) targeting MNX1-AS1 (si-MNX1-AS1) were carried out in AGS and MGC-803 GC cell lines. Cell proliferation (CCK-8 assay), migration (Transwell) and invasion (Transwell Matrigel), and protein expression of proliferating cell nuclear antigen (PCNA), E-cadherin, N-cadherin, vimentin and matrix metallopeptidase 9 (MMP-9) were analyzed in transfected GC cells. Expression of MNX1-AS1 was significantly higher in GC vs. adjacent non-tumor tissues. Higher MNX1-AS1 expression was significantly associated with tumor size, TNM stage and lymph node metastasis. Kaplan–Meier analysis showed that GC patients with higher MNX1-AS1 expression had worse OS compared to patients with lower MNX1-AS1 expression. Multivariate analysis showed that MNX1-AS1 is an independent poor prognostic factor in GC. Knockdown of MNX1-AS1 significantly inhibited proliferation, migration and invasion of AGS and MGC-803 cells, and resulted in increased E-cadherin and decreased PCNA, N-cadherin, vimentin and MMP-9 expression. Taken together, these results suggest that MNX1-AS1 has an oncogenic function in GC and potential as a molecular target in GC therapy.
Downloads
Download data is not yet available.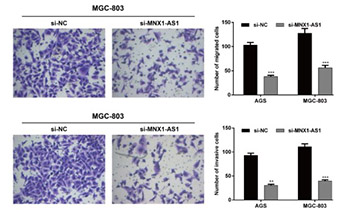 Downloads
Additional Files
How to Cite
1.
Zhang W, Huang L, Lu X, Wang K, Ning X, Liu Z. Upregulated expression of MNX1-AS1 long noncoding RNA predicts poor prognosis in gastric cancer. Biomol Biomed [Internet]. 2019May20 [cited 2023Jan.28];19(2):164-71. Available from: https://www.bjbms.org/ojs/index.php/bjbms/article/view/3713
Section
Molecular Biology