Intervertebral disc tissue engineering: A brief review
Janja Stergar

Institute of Biomedical Sciences, Faculty of Medicine, University of Maribor, Maribor, Slovenia Laboratory of Inorganic Chemistry, Faculty of Chemistry and Chemical Technology, University of Maribor, Maribor, Slovenia

Lidija Gradisnik

Institute of Biomedical Sciences, Faculty of Medicine, University of Maribor, Maribor, Slovenia Alma Mater Europaea – European Center Maribor (AMEU-ECM), Maribor, Slovenia

Tomaz Velnar

Institute of Biomedical Sciences, Faculty of Medicine, University of Maribor, Maribor, Slovenia Alma Mater Europaea – European Center Maribor (AMEU-ECM), Maribor, Slovenia Department of Neurosurgery, University Medical Centre Ljubljana, Ljubljana, Slovenia

Uros Maver

Institute of Biomedical Sciences, Faculty of Medicine, University of Maribor, Maribor, Slovenia Department of Pharmacology, Faculty of Medicine, University of Maribor, Maribor, Slovenia

https://orcid.org/0000-0002-2237-3786
Keywords:
Intervertebral disc, IVD, cell-based therapies, biomaterials, scaffolds, tissue engineering, IVD degeneration, IDD
Abstract
Intervertebral disc (IVD) degeneration (IDD) is associated with low back pain and significantly affects the patient's quality of life. Degeneration of the IVD alters disk height and the mechanics of the spine, leading to chronic segmental spinal instability. The pathophysiology of IVD disease is still not well understood. Current therapies for IDD include conservative and invasive approaches, but none of those treatments are able to restore the disc structure and function. Recently, tissue engineering techniques emerged as a possible approach to treat IDD, by replacing a damaged IVD with scaffolds and appropriate cells. Advances in manufacturing techniques, material processing and development, surface functionalization, drug delivery systems and cell incorporation furthered the development of tissue engineering therapies. In this review, biomaterial scaffolds and cell-based therapies for IVD regeneration are briefly discussed.
Downloads
Download data is not yet available.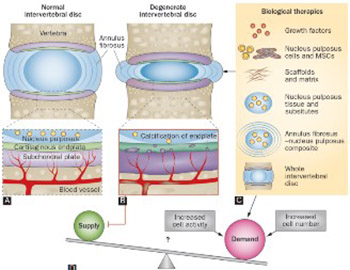 How to Cite
1.
Stergar J, Gradisnik L, Velnar T, Maver U. Intervertebral disc tissue engineering: A brief review. Bosn J of Basic Med Sci [Internet]. 2019May20 [cited 2019Dec.8];19(2):130-7. Available from: https://www.bjbms.org/ojs/index.php/bjbms/article/view/3778
© Association of Basic Medical Sciences of FBIH.