Outcomes and prognostic factors for patients with cervical esophageal cancer undergoing definitive radiotherapy or chemoradiotherapy
Keywords:
Cervical esophageal carcinoma, radiotherapy, chemoradiotherapy, prognosis, disease management, survival, 3DCRT, IMRT, concurrent chemoradiotherapy
Abstract
Cervical esophageal cancer (CEC) is uncommon, accounting for less than 5% of all esophageal cancers. The management of CEC is controversial. This study investigated treatment outcomes and prognostic factors of survival in CEC patients undergoing definitive radiotherapy or concurrent chemoradiotherapy (CCRT). Ninety-one CEC patients were treated by intensity-modulated radiation therapy (IMRT) and three-dimensional conformal radiation therapy (3DCRT) between July 2007 and September 2017. The mean prescription dose was 64 Gy (range 54-70 Gy) delivered as 1.8-2.2 Gy per fraction per day, 5 days a week. Out of 91 patients, 34 received concurrent cisplatin-based chemotherapy (CT) including 18 patients who also received neoadjuvant CT. Overall survival (OS), locoregional failure-free survival (LRFFS), and progression-free survival (PFS) were estimated by the Kaplan–Meier method. Prognostic factors of survival were determined in univariate (log-rank test) and multivariate (Cox proportional hazard model) analysis. Treatment-related toxicity was also assessed. Median follow-up time for all patients was 19 months. Two-year OS, LRFFS and PFS of all patients were 58.2%, 52.5% and 48.1%, respectively. Clinical stage was an independent prognostic factor for OS (HR = 2.35, 95% CI: 1.03-5.37, p = 0.042), LRFFS (HR = 3.84, 95% CI: 1.38-10.69, p = 0.011), and PFS (HR = 2.68, 95% CI: 1.11-6.45, p = 0.028). Hoarseness was an independent prognostic factor for OS (HR = 2.10, 95% CI: 1.05-4.19, p = 0.036). CCRT was independently associated with better LRFFS (HR = 0.33, 95% CI: 0.14-0.79, p = 0.012). 3DCRT and IMRT with concurrent CT is well-tolerated and may improve local tumor control in CEC patients. Advanced clinical stage and hoarseness are adverse prognostic factors for OS, LRFFS, and PFS in CEC.
Downloads
Download data is not yet available.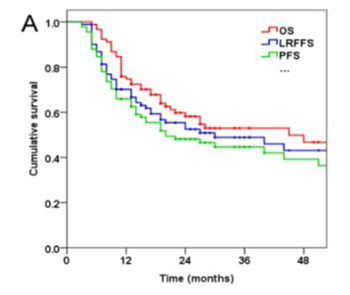 Downloads
Additional Files
How to Cite
1.
Du X- xin, Yu R, Wang Z- fei, Du D- cheng, Liu Q- yun, Wang R- mei, Kang S- rong, Yang H. Outcomes and prognostic factors for patients with cervical esophageal cancer undergoing definitive radiotherapy or chemoradiotherapy. Biomol Biomed [Internet]. 2019May20 [cited 2023Jan.28];19(2):186-94. Available from: https://www.bjbms.org/ojs/index.php/bjbms/article/view/3873
Section
Translational and Clinical Research