CircRNA_014511 affects the radiosensitivity of bone marrow mesenchymal stem cells by binding to miR-29b-2-5p
Yanjie Wang

Department of Clinical Laboratory, The Third Xiangya Hospital, Central South University, Hunan, China

https://orcid.org/0000-0002-5567-039X

Junhua Zhang

Department of Blood Transfusion, The Third Xiangya Hospital, Central South University, Hunan, China

Jian Li

Department of Clinical Laboratory, The Third Xiangya Hospital, Central South University, Hunan, China

Rong Gui

Department of Blood Transfusion, The Third Xiangya Hospital, Central South University, Hunan, China

Xinmin Nie

Department of Clinical Laboratory, The Third Xiangya Hospital, Central South University, Hunan, China

https://orcid.org/0000-0003-3104-2505

Rong Huang

Department of Blood Transfusion, The Third Xiangya Hospital, Central South University, Hunan, China
Keywords:
Circular RNA, miRNA, Bone Marrow Mesenchymal Stem Cell, Radiosensitivity
Abstract
Hematopoietic stem cell transplantation is commonly used in patients with certain hematological or bone marrow tumors. Total body irradiation combined with chemotherapy is part of the preconditioning protocol that was the most commonly used before hematopoietic stem cell transplantation. However, total body irradiation preconditioning damages other normal cells in bone marrow. Therefore, exploring the mechanism of radiation resistance in bone marrow mesenchymal stem cells is of great significance for recovering the hematopoietic function after cell transplantation. This study aimed to demonstrate the miR-29b adsorption of circRNA_014511 and explore the effect of circRNA_014511 on radiosensitivity of bone marrow mesenchymal stem cells. In this study, circRNA_014511 overexpression vector was constructed and transfected into bone marrow mesenchymal stem cells, miR-29b-2-5p and P53 were found to be decreased, which could be reversed by miR29b-mimics. Dual luciferase reporter assay confirmed the binding of circRNA_014511 and mmu-miR-29b-2-5p. Flow cytometry analysis showed the apoptosis rate of bone marrow mesenchymal stem cells overexpressing circRNA_014511 was significantly decreased. In the circRNA_014511 transfection group, after cells were subjected to 6Gy irradiation, G2 phase arrest appeared, the expression of P21 and GADD45A was significantly decreased, and cyclin B1 was significantly increased. Colony formation assay showed the survival fraction of circRNA_014511 overexpression cells after irradiation was significantly higher than control group, and the radiosensitivity was decreased. In conclusion,our findings demonstrated that circRNA_014511 could inhibit the expression of P53 by binding miR-29b-2-5p, and decrease the radiosensitivity of bone marrow mesenchymal stem cells by affecting cell cycle and cell apoptosis.
Downloads
Download data is not yet available.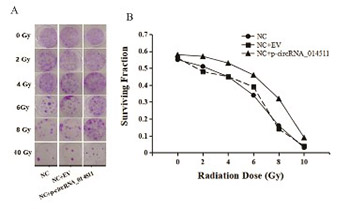 How to Cite
1.
Wang Y, Zhang J, Li J, Gui R, Nie X, Huang R. CircRNA_014511 affects the radiosensitivity of bone marrow mesenchymal stem cells by binding to miR-29b-2-5p. Bosn J of Basic Med Sci [Internet]. 2019May20 [cited 2021Oct.24];19(2):155-63. Available from: https://www.bjbms.org/ojs/index.php/bjbms/article/view/3935
Section
Molecular Biology