The relationship between vitamin D status, physical activity and insulin resistance in overweight and obese subjects
Keywords:
Vitamin D deficiency, insulin resistance, obesity, physical activity
Abstract
Type 2 diabetes mellitus (T2DM) incidence has been increasing worldwide along with the rise of obesity and sedantery lifestyle. Decreased physical activity (PA) and obesity have also been associated with the low vitamin D levels. We aimed to determine the association between PA, vitamin D status and insulin resistance in overweight and obese subjects. A total of 294 (186 female, 108 male) overweight or obese subjects were included in this cross-sectional study. 25-hydroxy vitamin D (25(OH)D), insulin, fasting plasma glucose (FPG) and HbA1c levels were measured in blood samples. Body mass index (BMI), HOMA-index and total score of International Physical Activity Questionnaire-long form (IPAQ) were calculated. Insulin resistant subjects were compared with the non-resistant group. The mean age of the participants was 45±12.25 and 41.39±10.32; 25(OH)D levels were 8.91 ± 4.30 and 17.62 ± 10.47 ng/dL; BMIs were 31.29 ± 4.48  and 28.2 ± 3.16 kg/m², IPAQ total scores were 548.71±382.81 and 998±486.21 in the insulin resistant and nonresistant subjects, respectively. There was a statistically significant difference in terms of 25(OH)D, FPG, insulin levels, IPAQ  total score and BMI between the two groups (p = 0.001, p = 0.001, p = 0.001, p = 0.001, p = 0.001).Significantly low 25(OH)D levels, high BMI and low PA in insulin resistant subjects confirm the importance of active lifestyle and the maintenance of normal vitamin D levels in overweight and obese subjects in prevention of T2DM.
Downloads
Download data is not yet available.
References
Sung CC, Liao MT, Lu KC, Wu CC. Role of vitamin D in insulin resistance. J Biomed Biotechnol 2012;634195. DOI: 10.1155/2012/634195.
Mackawy AMH, Badawi MEH. Association of vitamin D and vitamin D receptor gene polymorphisms with chronic inflammation, insulin resistance and metabolic syndrome components in type 2 diabetic Egyptian patients. Meta Gene 2014;2:540-556. DOI: 10.1016/j.mgene.2014.07.002.
Lopes MR, Ribeiro PA, Ledur P, Souza GC. Vitamin D insufficiency is associated with lower physical function in patients with heart failure and diabetes. J Diabetes Res 2014;320930. DOI: 10.1155/2014/320930.
Agmon-Levin N, Theodor E, Segal RM, Shoenfeld Y. Vitamin D in systemic and organ-specific auto- immune diseases. Clin Rev Allergy Immunol 2013;45(2):256-266. DOI: 10.1007/s12016-012-8342-y.
Pittas AG, Lau J, Hu FB, Dawson-Hughes B. The role of vitamin D and calcium in type 2 diabetes. A systematic review and metaanalysis. Clin Endocrinol Metab 2007;92:2017-2029. DOI: 10.1210/jc.2007-0298.
Kendrick J, Targher G, Smits G, Chonchol M. 25-Hydroxyvitamin D deficiency is independently associated with cardiovascular disease in the Third National Health and Nutrition Examination Survey. Atherosclerosis 2009;205(1):255–260. DOI: 10.1016/j.atherosclerosis.2008.10.033.
Forouhi NG, Ye Z, Rickard AP. Circulating 25-hydroxyvitamin D concentration and the risk of type 2 diabetes in individuals with prediabetes but not with normal glucose tolerance. Diabetologia 2012;55(8):2173-2182. DOI: 10.1007/s00125-012-2544-y.
Mezza T, Muscogiuri G, Sorice GP, Prioletta A. Vitamin D deficiency: a new risk factor for type 2 diabetes? Ann Nutr Metab 2012;61(4):337-348. DOI: 10.1159/000342771.
Candido FG, Bressan J. Vitamin D: Link between osteoporosis, obesity and diabetes? Int J Mol Sci 2014;15(4):6569-6591. DOI: 10.3390/ijms15046569.
Alvarez JA, Ashraf A. Role of vitamin d in insulin secretion and insulin sensitivity for glucose homeostasis. Int J Endocrinol 2010;351385. DOI: 10.1155/2010/351385.
Minambres I, Hernandez JS, Sanchez-Quesada JL. The Association of hypovitaminosis D with the metabolic syndrome is independent of the degree of obesity. Int J Endocrinol 2012; 691803. DOI: 10.5402/2012/691803.
Wortsman J, Matsuoka LY, Chen TC, Lu Z, Holick MF. Decreased bioavailability of vitamin D in obesity. Am J Clin Nutr 2000;72(3):690-693.
Al-Othman A, Al-Musharaf S, Al-Daghri NM, Krishnaswamy S. Effect of physical activity and sun exposure on vitamin D status of Saudi children and adolescents. BMC Pediatr 2012;12:92. DOI: 10.1186/1471-2431-12-92.
Brock K, Cant R, Clemson L, Mason RS, Fraser DR. Effects of diet and exercise on plasma vitamin D levels in Vietnamese immigrant elderly in Sydney, Australia. J Steroid Biochemical Mol Biol 2007;103(3-5):786-792. DOI: 10.1016/j.jsbmb.2006.12.048.
Adult Treatment Panel III. Third report of the National Cholesterol Education Program Expert Panel on detection, evaluation and treatment of high blood cholesterol in adults. Circulation 2002;106(25):3143-3421.
Ross AC, Taylor CL, Yaktine AL, Del Valle HB. Dietary reference intakes for calcium and vitamin D in Institute of Medicine Committee to Review Dietary Reference Intakes for Vitamin D and Calcium. Washington DC:The National Academies Press; 2011.
Ozturk M. Evaluation of validity and reliability of International Physical Activity Questionnaire and determination of the level of physical activity in college students. Ankara: Hacettepe University Health Sciences Institute; 2005.
Craig CA, Marshall AL, Sjostrom M, Bauman AE, Booth ML, Ainsworth BE, et al. International physical activity questionnaire: 12-country reliability and validity. Medical Science Sports Exercise 2013; 35(8): 1381-1395. DOI: 10.1249/01.MSS.0000078924.61453.FB.
Pittas AG, Dawson-Hughes B, Li T, Van Dam RM, Willet WC. Vitamin D and calcium intake in relation to type 2 diabetes in women. Diabetes Care 2006;29(3):650-656. DOI: 10.2337/diacare.29.03.06.dc05-1961.
Lu L, Yu Z, Pan A . Plasma 25-hydroxyvitamin D concentration and metabolic syndrome among middle aged and elderly Chinese individuals. Diabetes Care 2009;32(7):1278-1283. DOI: 10.2337/dc09-0209.
Hyppönen E, Power C. Vitamin D status and glucose homeostasis in the 1958 British birth cohort:the role of obesity. Diabetes Care 2006;29(10):2244-2246. DOI: 10.2337/dc06-0946.
Ou HY, Karnchanasorn R, Lee LZ, Chiu KC. Interaction of BMI with vitamin D and insulin sensitivity. Eur J Clin Invest 2011;41(11):1195-1201. DOI: 10.1111/j.1365-2362.2011.02525.x.
Kabadi SM, Lee BK, Liu L. Joint effects of obesity and vitamin D insufficiency on insulin resistance and type 2 diabetes mellitus: Results from the NHANES 2001-2006. Diabetes Care 2012;35(10):2048-2054. DOI: 10.2337/dc12-0235.
Gulseth HL, Gjelstad IMF, Tierney AC. Serum vitamin D concentration does not predict insulin action or secretion in European subjects with the metabolic syndrome. Diabetes Care 2010;33(4):923-929. DOI: 10.2337/dc09-1692.
Muscogiuri GI, Sorice GP, Prioletta A, Policola C, Della Casa S, Pontecorvi A, et al. 25-hydroxyvitamin D concentration correlates with insulin sensitivity and BMI in obesity. Obesity 2010;18(10):1906-1910. DOI: 10.1038/oby.2010.11.
Liel Y, Ulmer E, Shary J, Hollis BW, Bell NH. Low circulating vitamin D in obesity. Calcif Tissue Int 1998; 43(4):199-201. DOI: 10.1007/BF02555135.
Nagpal J, Pande JN, Bhartia A. A double blind, randomized, placebo controlled trial of the short-term effect of vitamin D3 supllementation on insulin sensitivity in apparently healthy, middle aged, centrally obese men. Diabetic Medicine 2009;26(1):19-27. DOI: 10.1111/j.1464-5491.2008.02636.x.
Pittas AG, Harris SS, Stark PC. The effects of calcium and vitamin D supplementation on blood glucose and markers of inflammation in nondiabetic adults. Diabetes Care 2007;30(4):980-986. DOI: 10.2337/dc06-1994.
Mathus-Viegen EM. Prevelance, pathophysiology, health consequences and treatment options of obesity in the elderly: a guideline. Obes Facts 2012;5(3):460-483. DOI: 10.1159/000341193.
Scragg F, Sowers M, Bell C. Serum 25-hydroxyvitamin D, diabetes and ethnicity in the third NHANES. Diabetes Care 2004;27(12):2813-2818. DOI: 10.2337/diacare.27.12.2813.
Brock K, Huang WY, Frase DR, Le K, Tseng M, Stolzenberg-Solomon R. Low vitamin D status is associated with physical inactivity, obesity and low vitamin D intake in a large US sample of healthy middle-aged men and women. J Steroid Biochem Mol Biol 2010;121(1-2):462-466. DOI: 10.1016/j.jsbmb.2010.03.091.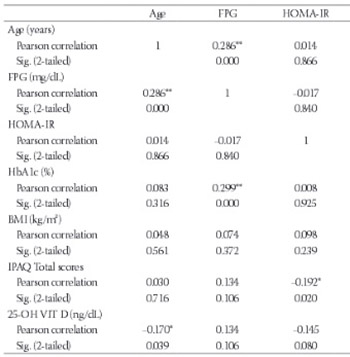 Downloads
Additional Files
How to Cite
1.
Kavadar G, Demircioğlu DT, Özgönenel L, Emre TY. The relationship between vitamin D status, physical activity and insulin resistance in overweight and obese subjects. Bosn J of Basic Med Sci [Internet]. 2015May20 [cited 2022Jul.6];15(2):62-6. Available from: https://www.bjbms.org/ojs/index.php/bjbms/article/view/399
Section
Translational and Clinical Research