PCAT1 is a poor prognostic factor in endometrial carcinoma and associated with cancer cell proliferation, migration and invasion
Keywords:
endometrial carcinoma, PCAT1, prognosis, cell proliferation, migration, invasion
Abstract
Long non-coding RNAs (lncRNAs) are emerging as important modulators of cancer progression, among which prostate cancer-associated transcript 1 (PCAT1) has been shown to be an oncogene in several tumors. However, the clinical significance and biological function of PCAT1 in endometrial carcinoma (EC) remain unclear. In this study, we used 89 EC tissues and HEC-1B, Ishikawa, RL95-2 and AN3CA EC cell lines. We found elevated expression levels of PCAT1 in EC tissues and cell lines using reverse transcription qPCR (RT-qPCR). The prognostic value of PCAT1 was determined using Kaplan–Meier survival and Cox regression analysis. The results showed that higher PCAT1 expression was positively correlated with FIGO stage, myometrial invasion, lymph node metastasis, and a shorter overall survival. A series of functional assays showed that the knockdown of PCAT1 by small interfering RNA (siRNA) targeting PCAT1 (siPCAT1) suppressed cell proliferation, migration and invasion, but promoted apoptosis. Western blot analysis further showed that B-cell lymphoma 2 (Bcl-2), vimentin and N-cadherin were downregulated, but E-cadherin and Bcl-2-associated death promoter (Bad) were upregulated in PCAT1-silenced EC cells. Taken together, our results underscore the oncogenic role of PCAT1 in EC and show that PCAT1 may be a potential therapeutic target in EC treatment.
Downloads
Download data is not yet available.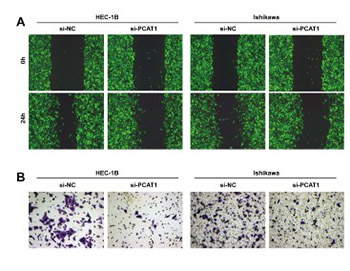 Downloads
Additional Files
How to Cite
1.
Zhao X, Fan Y, Lu C, Li H, Zhou N, Sun G, Fan H. PCAT1 is a poor prognostic factor in endometrial carcinoma and associated with cancer cell proliferation, migration and invasion. Bosn J of Basic Med Sci [Internet]. 2019Aug.20 [cited 2022Nov.29];19(3):274-81. Available from: https://www.bjbms.org/ojs/index.php/bjbms/article/view/4096
Section
Molecular Biology