Clear cell urothelial carcinoma of the urinary bladder - a rare pathological entity. A case report and a systematic review of the literature
Ioana Mihai

Department of Morphopathology, The Victor Babes University of Medicine and Pharmacy of Timisoara, Timisoara, Romania

https://orcid.org/0000-0003-0617-4178

Sorina Taban

Department of Morphopathology, The Victor Babes University of Medicine and Pharmacy of Timisoara; Department of Pathology, Emergency Clinical County Hospital Pius Brinzeu, Timisoara, Romania

Alin Cumpanas

Department of Urology, The Victor Babes University of Medicine and Pharmacy of Timisoara; Department of Urology, Emergency Clinical County Hospital Pius Brinzeu, Timisoara, Romania

Emilian Gh. Olteanu

Department of Morphopathology, The Victor Babes University of Medicine and Pharmacy of Timisoara; Department of Pathology, Emergency Clinical County Hospital Pius Brinzeu; Centre for Gene and Cellular Therapies in Cancer - Oncogen, Timisoara, Romania

https://orcid.org/0000-0001-5921-4634

Mihaela Iacob

Department of Pathology, Emergency Clinical County Hospital Pius Brinzeu, Timisoara, Romania

Alis Dema

Department of Morphopathology, The Victor Babes University of Medicine and Pharmacy of Timisoara; Department of Pathology, Emergency Clinical County Hospital Pius Brinzeu, Timisoara, Romania

https://orcid.org/0000-0003-0767-2718
Keywords:
clear cell urothelial carcinoma, urinary bladder, review
Abstract
The most common histological type of urinary bladder cancer is urothelial carcinoma (UC). In contrast, the clear cell variant of urothelial carcinoma (CCUC) is quite a rare neoplasm. In this study, we report a case of an 81-year-old male, presenting with gross hematuria and acute urinary retention, which was subsequently diagnosed with CCUC at our pathology department. Furthermore, we provide a short systematic review of the literature (PubMed, Scopus, and Science Citation Index) for this rare histopathological entity and a brief discussion about its morphological and immunohistochemical (IHC) characteristics.
Downloads
Download data is not yet available.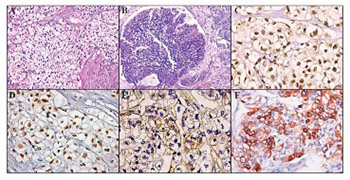 How to Cite
1.
Mihai I, Taban S, Cumpanas A, Olteanu EG, Iacob M, Dema A. Clear cell urothelial carcinoma of the urinary bladder - a rare pathological entity. A case report and a systematic review of the literature. Bosn J of Basic Med Sci [Internet]. 2019Nov.8 [cited 2019Dec.13];19(4):400-3. Available from: https://www.bjbms.org/ojs/index.php/bjbms/article/view/4182
© Association of Basic Medical Sciences of FBIH.