Characteristics and prognostic factors of age-stratified high-grade intracranial glioma patients: A population-based analysis
Keywords:
prognosis, surveillance, Epidemiology and End Results (SEER) Program, SEER, glioma
Abstract
We evaluated characteristics and different prognostic factors for survival in age-stratified high-grade glioma in a U.S. cohort. Eligible patients were identified in the Surveillance, Epidemiology, and End Results (SEER) registries and stratified into 3 age groups: 20–39 years old (1,043 patients), 40–59 years old (4,503 patients), and >60 years old (5,045 patients). Overall and cancer-related survival data were obtained. Cox models were built to analyze the outcomes and risk factors. It showed that race was a prognostic factor for survival in patients 40 to 59 years old and in patients ≥60 years old. Partial resection was associated with lower overall survival and cause-specific survival in all age groups (overall survival: 20–39 yr: HR = 6.41; 40–59 yr: HR = 4.84; >60 yr: HR = 5.06; cause-specific survival: 20–39 yr: HR = 5.87; 40–59 yr: HR = 4.01; >60 yr: HR = 3.36). The study highlights that, while some prognostic factors are universal, others are age-dependent. The effectiveness of treatment approaches differs for patients in different age groups. Results of this study may help to develop personalized treatment protocols for glioma patients of different ages.
Downloads
Download data is not yet available.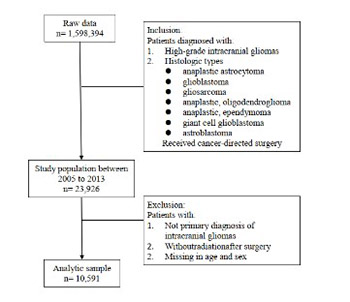 Downloads
Additional Files
How to Cite
1.
Sun Y, Xiong Z-Y, Yan P-F, Jiang L-L, Nie C-S, Wang X. Characteristics and prognostic factors of age-stratified high-grade intracranial glioma patients: A population-based analysis. Biomol Biomed [Internet]. 2019Nov.8 [cited 2023Sep.28];19(4):375-83. Available from: https://www.bjbms.org/ojs/index.php/bjbms/article/view/4213
Section
Translational and Clinical Research