Long noncoding RNA MALAT1 may be a prognostic biomarker in IDH1/2 wild-type primary glioblastomas
Keywords:
Long noncoding RNA, MALAT1, biomarker, prognosis, IDH1/2, primary glioblastoma, isocitrate dehydrogenase
Abstract
Primary glioblastoma (GB) is the most aggressive type of brain tumors. While mutations in isocitrate dehydrogenase (IDH) genes are frequent in secondary GBs and correlate with a better prognosis, most primary GBs are IDH wild-type. Recent studies have shown that the long noncoding RNA metastasis associated lung adenocarcinoma transcript-1 (MALAT1) is associated with aggressive tumor phenotypes in different cancers. Our aim was to clarify the prognostic significance of MALAT1 in IDH1/2 wild-type primary GB tumors. We analyzed IDH1/2 mutation status in 75 patients with primary GB by DNA sequencing. The expression of MALAT1 was detected in the 75 primary GB tissues and 5 normal brain tissues using reverse transcription quantitative PCR (RT-qPCR). The associations between MALAT1 expression, IDH1/2 mutation status, and clinicopathological variables of patients were determined. IDH1 (R132H) mutation was observed in 5/75 primary GBs. IDH2 (R172H) mutation was not detected in any of our cases. MALAT1 expression was significantly upregulated in primary GB vs. normal brain tissues (p = 0.025). Increased MALAT1 expression in IDH1/2 wild-type primary GBs correlated with patient age and tumor localization (p = 0.032 and p = 0.025, respectively). A multivariate analysis showed that high MALAT1 expression was an unfavorable prognostic factor for overall survival (p = 0.034) in IDH1/2 wild-type primary GBs. High MALAT1 expression may have a prognostic role in primary GBs independent of IDH mutations.
Downloads
Download data is not yet available.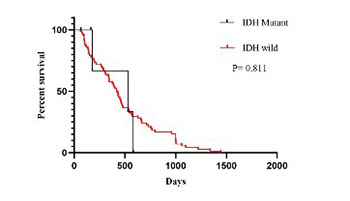 Downloads
Additional Files
How to Cite
1.
Argadal OG, Mutlu M, Ak Aksoy S, Kocaeli H, Tunca B, Civan MN, Egeli U, Cecener G, Bekar A, Taskapilioglu MO, Tekin C, Tezcan G, Tolunay S. Long noncoding RNA MALAT1 may be a prognostic biomarker in IDH1/2 wild-type primary glioblastomas. Biomol Biomed [Internet]. 2020Feb.5 [cited 2023Jan.28];20(1):63-9. Available from: https://www.bjbms.org/ojs/index.php/bjbms/article/view/4297
Section
Molecular Biology