Galectin-1 reduces the severity of dextran sulfate sodium (DSS)-induced ulcerative colitis by suppressing inflammatory and oxidative stress response
Keywords:
Galectin-1, dextran sulfate sodium (DSS), ulcerative colitis, inflammation, oxidative stress
Abstract
Ulcerative colitis is an inflammatory bowel disease that affects a large number of people around the world. Galectin-1 is a β-galactoside-binding lectin with a broad range of biological activities. The effects of galectin-1 on dextran sulfate sodium (DSS)-induced ulcerative colitis in vivo is not clear. We investigated the effect of galectin-1 on colon morphology, cell proliferation, oxidative stress, antioxidant system, and proinflammatory/antiinflammatory cytokines in a DSS-induced mouse model of ulcerative colitis. Thirty-two C57BL/6 mice were randomly assigned to one of the four groups: control, acute colitis, galectin-1, and DSS+galectin-1. Controls were treated with phosphate-buffered saline (PBS) for seven days. Acute colitis was induced by 3% DSS in drinking water administered orally for five days. Mice in galectin-1 groups were treated with 1 mg/kg recombinant human galectin-1 in PBS for seven consecutive days. Oral DSS administration resulted in acute colitis by causing histopathological changes; an increase in disease activity index (DAI), lipid peroxidation (malondialdehyde [MDA]), myeloperoxidase (MPO), and tumor necrosis factor (TNF)-α levels; a decrease in body weight, colon length, cell proliferation index, catalase, glutathione peroxidase (GSH-Px) and superoxide dismutase (SOD) activities, and GSH and interleukin (IL)-10 levels. The treatment with galectin-1 attenuated DSS-induced acute colitis by reducing DAI, MDA, MPO, and TNF-α levels and by increasing body weight, colon length, cell proliferation, antioxidant enzyme activity, GSH, and IL-10 levels. These findings suggest that galectin-1 has proliferative, antioxidant, antiinflammatory, and cytoprotective effects against DSS-induced ulcerative colitis in mice. Due to its antiinflammatory and antioxidant activity galectin-1 may be effective in preventing and treating ulcerative colitis.
Downloads
Download data is not yet available.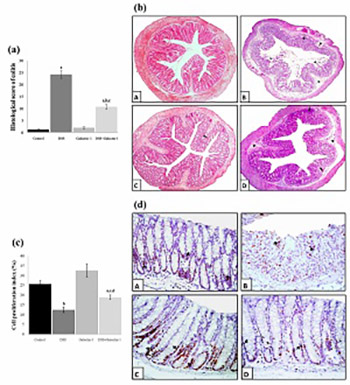 Downloads
Additional Files
How to Cite
1.
Arda-Pirincci P, Aykol-Celik G. Galectin-1 reduces the severity of dextran sulfate sodium (DSS)-induced ulcerative colitis by suppressing inflammatory and oxidative stress response. Biomol Biomed [Internet]. 2020Aug.3 [cited 2023Feb.6];20(3):319-28. Available from: https://www.bjbms.org/ojs/index.php/bjbms/article/view/4539