The natural adaptive evolution of cancer: The metastatic ability of cancer cells
Gheorghe-Emilian Olteanu

Department of Microscopic Morphology, "Victor Babes" University of Medicine and Pharmacy Timisoara, Timisoara, Romania; Clinical Emergency County Hospital "Pius Brinzeu" Timisoara, Center for Gene and Cellular Therapies in the Treatment of Cancer Timisoara – OncoGen, Timisoara, Romania

https://orcid.org/0000-0001-5921-4634

Ioana-Maria Mihai

Department of Microscopic Morphology, "Victor Babes" University of Medicine and Pharmacy Timisoara, Timisoara, Romania

https://orcid.org/0000-0003-0617-4178

Florina Bojin

Clinical Emergency County Hospital "Pius Brinzeu" Timisoara, Center for Gene and Cellular Therapies in the Treatment of Cancer Timisoara – OncoGen, Timisoara, Romania; Department of Functional Sciences, "Victor Babes" University of Medicine and Pharmacy Timisoara, Timisoara, Romania

Oana Gavriliuc

Clinical Emergency County Hospital "Pius Brinzeu" Timisoara, Center for Gene and Cellular Therapies in the Treatment of Cancer Timisoara – OncoGen, Timisoara, Romania; Department of Functional Sciences, "Victor Babes" University of Medicine and Pharmacy Timisoara, Timisoara, Romania

Virgil Paunescu

Clinical Emergency County Hospital "Pius Brinzeu" Timisoara, Center for Gene and Cellular Therapies in the Treatment of Cancer Timisoara – OncoGen, Timisoara, Romania; Department of Functional Sciences, "Victor Babes" University of Medicine and Pharmacy Timisoara, Timisoara, Romania
Keywords:
Cancer, metastasis, macrophage–cancer fusion cells, cancer fusion cells, CFCs, hypothesis, review
Abstract
The ability of cancer to adapt renders it one of the most challenging pathologies of all time. It is the most dreaded pathological entity because of its capacity to metastasize to distant sites in the body, and 90% of all cancer-related deaths recorded to date are attributed to metastasis. Currently, three main theories have been proposed to explain the metastatic pathway of cancer: the epithelial–mesenchymal transition (EMT) and mesenchymal–epithelial transition (MET) hypothesis (1), the cancer stem cell hypothesis (2), and the macrophage–cancer cell fusion hybrid hypothesis (3). We propose a new hypothesis, i.e., under the effect of particular biochemical and/or physical stressors, cancer cells can undergo nuclear expulsion with subsequent macrophage engulfment and fusion, with the formation of cancer fusion cells (CFCs). The existence of CFCs, if confirmed, would represent a novel metastatic pathway and a shift in the extant dogma of cancer; consequently, new treatment targets would be available for this adaptive pathology.
Downloads
Download data is not yet available.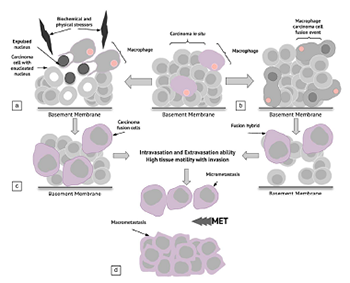 How to Cite
1.
Olteanu G-E, Mihai I-M, Bojin F, Gavriliuc O, Paunescu V. The natural adaptive evolution of cancer: The metastatic ability of cancer cells. Bosn J of Basic Med Sci [Internet]. 2020Aug.3 [cited 2022Jan.22];20(3):303-9. Available from: https://www.bjbms.org/ojs/index.php/bjbms/article/view/4565
Copyright (c) 2020 Gheorghe-Emilian Olteanu, Ioana-Maria Mihai, Florina Bojin, Oana Gavriliuc, Virgil Paunescu
This work is licensed under a Creative Commons Attribution 4.0 International License.