Neural stem cell-conditioned medium ameliorates Aβ25–35-induced damage in SH-SY5Y cells by protecting mitochondrial function
Keywords:
Alzheimer's disease, neural stem cell-conditioned medium, Aβ25–35, mitochondria, apoptosis
Abstract
Inhibition of amyloid β (Aβ)-induced mitochondrial damage is considered crucial for reducing the pathological damage in Alzheimer's disease (AD). We evaluated the effect of neural stem cell-conditioned medium (NSC-CDM) on Aβ25–35-induced damage in SH-SY5Y cells. An in vitro model of AD was established by treating SH-SY5Y cells with 40 µM Aβ25–35 for 24 h. SH-SY5Y cells were divided into control, Aβ25–35 (40 µM), Aβ25–35 (40 µM) + NSC-CDM, and Aβ25–35 (40 µM) + neural stem cell-complete medium (NSC-CPM) groups. Cell viability was detected by CCK-8 assay. Apoptosis, reactive oxygen species (ROS) production, and mitochondrial membrane potential (MMP) were detected by flow cytometry. Malondialdehyde content was detected by ELISA assay. Western blot analysis was used to detect cytochrome c release and apoptosis-related proteins. Transmission electron microscopy was used to observe mitochondrial morphology. Cell viability significantly decreased and apoptosis significantly increased in SH-SY5Y cells treated with Aβ25–35, and both effects were rescued by NSC-CDM. In addition, NSC-CDM reduced ROS production and significantly inhibited the reduction of MMP caused by Aβ25–35. Furthermore, NSC-CDM ameliorated Aβ25–35-induced reduction in Bcl-2 expression levels and increased the expression levels of cytochrome c, caspase-9, caspase-3, and Bax. Moreover, Aβ25–35 induced the destruction of mitochondrial ultrastructure and this effect was reversed by NSC-CDM. Collectively, our findings demonstrated the protective effect of NCS-CDM against Aβ25–35-induced SH-SY5Y cell damage and clarified the mechanism of action of Aβ25–35 in terms of mitochondrial maintenance and mitochondria-associated apoptosis signaling pathways, thus providing a theoretical basis for the development of novel anti-AD treatments.
Downloads
Download data is not yet available.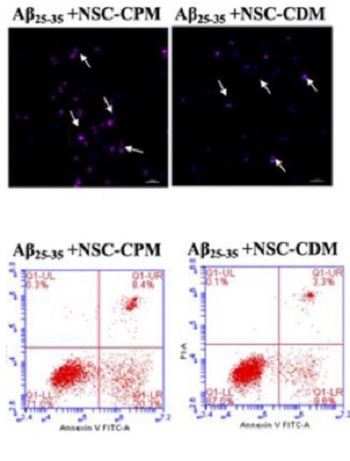 Downloads
Additional Files
How to Cite
1.
Jia G, Diao Z, Liu Y, Sun C, Wang C. Neural stem cell-conditioned medium ameliorates Aβ25–35-induced damage in SH-SY5Y cells by protecting mitochondrial function. Biomol Biomed [Internet]. 2021Apr.1 [cited 2023Feb.9];21(2):179-86. Available from: https://www.bjbms.org/ojs/index.php/bjbms/article/view/4570
Section
Molecular Biology