Neurological outcome in patients after successful resuscitation in out-of-hospital settings
Keywords:
Out-of-hospital cardiac arrest, OHCA, ischemic brain injury, resuscitation
Abstract
Neurological outcome is an important determinant of death in admitted survivors after out-of-hospital cardiac arrest (OHCA). Studies demonstrated several significant pre-hospital predictors of ischemic brain injury (time to resuscitation, time of resuscitation, and cause of OHCA). Our aim was to evaluate the relationship between post-resuscitation clinical parameters and neurological outcome in OHCA patients, when all recommended therapeutic strategies, including hypothermia, were on board. We retrospectively included consecutive 110 patients, admitted to the medical ICU after successful resuscitation due to OHCA. Neurological outcome was defined by cerebral performance category (CPC) scale I-V. CPC categories I-II defined good neurological outcome and CPC categories III-V severe ischemic brain injury. Therapeutic measures were aimed to achieve optimal circulation and oxygenation, early percutaneous coronary interventions (PCI) in acute coronary syndromes (ACS), and therapeutic hypothermia to improve survival and neurological outcome of OHCA patients. We observed good neurological outcome in 37.2% and severe ischemic brain injury in 62.7% of patients. Severe ischemic brain injury was associated significantly with known pre-hospital data (older age, cause of OHCA, and longer resuscitations), but also with increased admission lactate, in-hospital complications (involuntary muscular contractions/seizures, heart failure, cardiogenic shock, acute kidney injury, and mortality), and inotropic and vasopressor support. Good neurological outcome was associated with early PCI, dual antiplatelet therapy, and better survival. We conclude that in OHCA patients, post-resuscitation early PCI and dual antiplatelet therapy in ACS were significantly associated with good neurological outcome, but severe ischemic brain injury was associated with several in-hospital complications and the need for vasopressor and inotropic support.
Downloads
Download data is not yet available.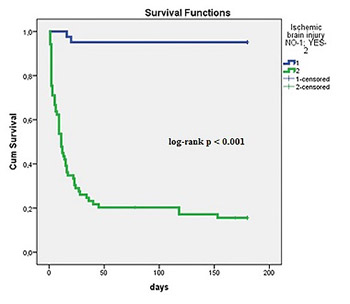 Downloads
Additional Files
How to Cite
1.
Marinšek M, Sinkovič A, Šuran D. Neurological outcome in patients after successful resuscitation in out-of-hospital settings. Biomol Biomed [Internet]. 2020Aug.3 [cited 2023Dec.4];20(3):389-95. Available from: https://www.bjbms.org/ojs/index.php/bjbms/article/view/4623
Section
Translational and Clinical Research