Progress in research on childhood T-cell acute lymphocytic leukemia, Notch1 signaling pathway, and its inhibitors: A review
Zhong Fang-Fang

State Key Laboratory of Quality Research in Chinese Medicine, Macau University of Science and Technology, Macau, China; Department of Pediatrics, Affiliated Hospital of Southwest Medical University, Birth Defects Clinical Medical Research Center of Sichuan Province, Luzhou, China

https://orcid.org/0000-0002-1369-1803

Yang You

State Key Laboratory of Quality Research in Chinese Medicine, Macau University of Science and Technology, Macau, China; Department of Pediatrics, Affiliated Hospital of Southwest Medical University, Birth Defects Clinical Medical Research Center of Sichuan Province, Luzhou, China

Liu Wen-Jun

State Key Laboratory of Quality Research in Chinese Medicine, Macau University of Science and Technology, Macau, China; Department of Pediatrics, Affiliated Hospital of Southwest Medical University, Birth Defects Clinical Medical Research Center of Sichuan Province, Luzhou, China
Keywords:
Childhood leukemia, Notch1 signaling pathway, T-cell acute lymphocytic leukemia, T-ALL
Abstract
Childhood leukemia is cancer that seriously threatens the life of children in China. Poor sensitivity to chemotherapy and susceptibility to drug resistance are the reasons for the treatment of T-cell acute lymphocytic leukemia (T-ALL) being extremely difficult. Moreover, traditional intensive chemotherapy regimens cause great damage to children. Therefore, it is highly important to search for targeted drugs and develop a precise individualized treatment for child patients. There are activating mutations in the NOTCH1 gene in more than 50% of human T-ALLs and the Notch signaling pathway is involved in the pathogenesis of T-ALL. In this review, we summarize the progress in research on T-ALL and Notch1 signaling pathway inhibitors to provide a theoretical basis for the clinical treatment of T-ALL.
Downloads
Download data is not yet available.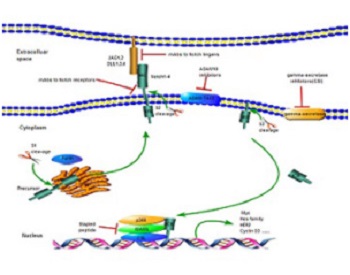 How to Cite
1.
Fang-Fang Z, You Y, Wen-Jun L. Progress in research on childhood T-cell acute lymphocytic leukemia, Notch1 signaling pathway, and its inhibitors: A review. Bosn J of Basic Med Sci [Internet]. 2021Apr.1 [cited 2021Sep.28];21(2):136-44. Available from: https://www.bjbms.org/ojs/index.php/bjbms/article/view/4687
Copyright (c) 2020 Zhong Fang-Fang, Yang You, Liu Wen-Jun
This work is licensed under a Creative Commons Attribution 4.0 International License.